Domestic violence in times of COVID-19
Risk Assessment and Safety Enhancement
Risk Assessment
Communication with victims about safety measures and risk assessment
Immediate risk of suicide and self-injury
Information about the usage of risk assessment tools in Europe regarding the Health Sector
IMPRODOVA Checklist for risk assessment of domestic violence
IMPRODOVA Risk Assessment Integration Module
Learning objectives
This module presents what needs to be considered when assessing the risk of victims of domestic violence and what steps are necessary to improve the safety of victims. The learning materials are not tailored to the needs of every country; they include generic cases that need local adaptation.
---
IMPRODOVA: Domestic violence in times of disasters
The video highlights the influence of disasters on the rate of domestic violence.
---
Domestic violence in times of COVID-19
Quarantine, restrictions, closed schools, home office, short-time work, financial worries and fear of the future – all these factors have the potential to cause increased stress in relationships and family life. It is therefore suspected that there has been and would continue to be a significant increase in violence at home.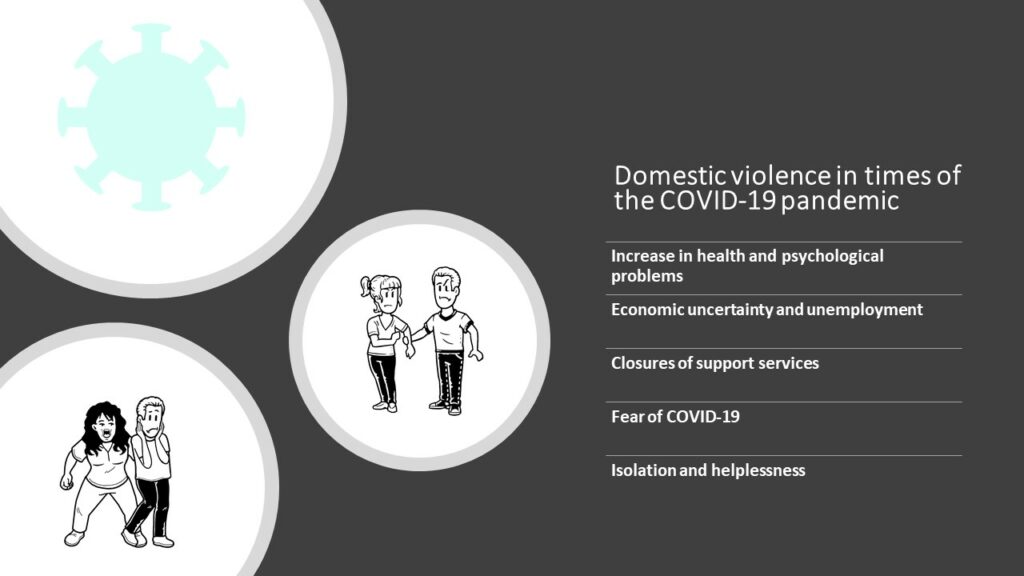 ---
Risk factors
Health and mental health problems can increase during the lockdown, as health-related services are only accessible to a limited extent. This in turn can have a negative impact on the health status of individuals, increase their stress levels and encourage an increase in violent assaults.
Economic insecurity or unemployment is accompanied by financial worries that can reinforce destructive coping mechanisms.
Violence always has to do with power. In times of crisis and isolation and the associated feelings of helplessness, loss of control and powerlessness, violence is supposedly a means of regaining control and power.
Language barriers, closures of contact points or the fact that social workers are only present on site to a limited extent due to the protective measures can make access to support services considerably more difficult.
Victims may also be reluctant to take advantage of support services for fear of contracting COVID-19.
Social distancing can limit the social contacts of individuals to such an extent that victims may not dare to seek help without the closeness and encouragement of caregivers. Similarly, caregivers, acquaintances, or outsiders, such as employers or educational staff, do not become aware of the problem and cannot act as supporters. On the other hand, neighbours are more alert and present and, due to the initial restrictions, must be considered a protective factor.
---
Light and dark field

During the COVID-19 pandemic, domestic violence was increasingly reported in EU countries.

Especially in cases of domestic violence, reports to the police are often received with some delay or not reported at all, and incidents more often reported by people victims relate to. However, the COVID-19-related restrictions prevented reporting because of the lack of social contacts. Therefore, more cases than usual may have gone undetected. As a result, it can be assumed that there are a high number of unreported cases.

This logic can explain why, in addition to an increase in reported cases of domestic violence in many areas, there was a decrease in numbers in others. This could be due to the fact that the perpetrator was always present at home so that the victim had no opportunity to call for help and/or report a crime without risking an escalation.
---
Domestic violence during the COVID-19 pandemic in EU countries
Each individual country has taken measures to support victims of domestic violence during the pandemic and to protect them from further violence.
National Action Plans

The document "The COVID-19 pandemic and intimate partner violence against women in the EU" offers a preliminary overview of the measures undertaken across the EU to support victims of violence during the Covid-19 outbreak (from March until the end of September 2020), identifies examples of promising practices and provides initial recommendations for the EU and Member States on how to better support victims during the pandemic, as well as in other potential crises.

Although more research is needed to fully assess the extent of the emerging challenges, the findings from this study can be used to further explore the issues and contribute to the development of governmental strategies on prevention of gender-based violence and on crisis preparedness.

The study found that the introduction of counterpandemic measures across the EU created at least seven main challenges for service providers:

Ensuring continuity of service delivery
Finding new ways of providing support
Meeting a surge in demand for services
Dealing with strain on service provider staff
Reaching victims
Identifying the risk level of victims
Inadequacy of funding.

All EU Member States implemented changes or established new measures to support and protect women victims of intimate partner violence and their children in response to Covid-19. However, comprehensive action plans specifically addressing the issue of intimate partner violence in the context of the Covid-19 pandemic or detailed guidance on emergency action were identified in few EU Member States. In addition, all these national policies and action plans were reactive responses that were developed and implemented after the Covid-19 outbreak, rarely accompanied by additional funding.

Only three Member States introduced action plans specifically to address issues relating to intimate partner violence in the context of the Covid-19 pandemic. Ireland, Spain and Lithuania are among the EU countries that have introduced a national action plan to tackle domestic violence during the pandemic. While Spain and Lithuania have strengthened coordination between their health, police and justice services, Ireland has gone one step further and has contributed €160,000 to support shelters and hotlines for victims of domestic violence. Irish courts have given priority to domestic violence cases and increased the number of remote hearings. The police also checked on women who have experienced violence in the past.
Legislation

New legislation or amendments to existing legislation in response to Covid-19 were adapted in 14 Member States. The most common type of legislative change was intended to ensure continuity of services to support women victims and their children, either specifically during lockdown or in emergency situations more generally. Legislation aiming to prevent victims from being trapped with perpetrators in the context of lockdown or quarantine was less common. Even where such legislation was introduced, Member States focused more on providing alternative accommodation to victims and ensuring no criminal liability for victims travelling despite lockdown orders than on removing the perpetrator from the home or changing police procedures or justice systems to continue criminal proceedings. Like national policies and action plans, most legislative or judicial interventions were introduced during lockdown and intended to be temporary.

In Latvia, Estonia, Slovakia and France, governments are now legally obliged to provide alternative shelters for women who are exposed to violence at home. Estonian courts are empowered to issue injunctions against violent partners to protect the victim from homelessness and bring the perpetrator to justice.
Awareness campaigns

Almost every EU country has conducted awareness campaigns to inform victims of domestic violence about available support. In Greece, Finland, and Portugal, for example, these were targeted specifically at refugees and people with a migrant background, while other countries targeted women from Roma communities, LGBTIQ+ women or people with hearing loss. Awareness campaigns can also encourage witnesses of domestic violence to support victims by providing clear guidance on how they can support victims.
Shaky support systems

Member States generally recognised the importance of increasing the availability of communication and support tools for victims throughout the Covid-19 pandemic. Thus more digital channels to help women victims of intimate partner violence to reach out for help were established. Examples include mobile phone apps, various forms of instant messaging service and new email services, with service providers increasing their hours of operation and their capacity to assist victims in different languages. However, measures offering tailored support to children affected by domestic violence were scarce.

The COVID-19 pandemic has revealed that support systems for victims of domestic violence are shaky in most EU countries. The staff of shelters and counselling centres were overwhelmed by the increased demand and the increased suffering of victims. They did not feel prepared for the situation of providing support from a distance and not being able to help the victims face-to-face. At the same time, they themselves had to adapt their work to the new situation (e.g. home office, reducing contacts, looking after children).
Conclusions

Very few Member States adopted a comprehensive national policy or action plan addressing potential spikes of intimate partner violence in the context of Covid-19
To ensure continuity of service delivery throughout the Covid-19 pandemic, legislation was used to classify victim support services as essential in a limited number of Member States
Legislative measures providing additional accommodation for victims were more common than those removing perpetrators
Shortages in shelter accommodation caused by Covid-19 restrictions sparked cross-sectoral initiatives
Lack of sufficient funding and guidance in Member States placed an additional burden on service providers
All Member States recognised the need to raise awareness of the risk of a spike in intimate partner violence in the context of the pandemic
There was a limited focus on providing specialised support for children and disadvantaged groups affected by intimate partner violence
Source: The COVID-19 pandemic and intimate partner violence in the EU.
---
Special role of police, health, and social sectors during the COVID-19 pandemic
Police

In times of lockdown and pandemic, the attention of the police is focused on compliance with and control of state-ordered measures.
Especially at the beginning of the lockdown, police forces may have refrained from expelling an offender from the home if he or she was in quarantine because it was unclear how to proceed in such cases.
Health sector

The attention of medical staff during the pandemic is mainly focused on pandemic-related medical interventions. Cases of domestic violence can thus be more easily overlooked. Victims of domestic violence are also afraid to go to hospital and catch COVID-19. In some cases, access to hospitals during a lockdown is only possible in severe acute cases.
Social sector

School closures took place in about 190 countries worldwide. Apart from the direct loss of education, there was also a loss of social contacts. Indicators and direct signs of domestic violence thus have a high risk of being overlooked.
In the social sector, appointments with clients can no longer take place in person. Many contact points had to close, and appointments were cancelled or greatly reduced.
NGOs, victim support and counselling services reported an increased demand for counselling and/or support. Further analysis is needed to obtain reliable data on which services are in high demand and need to be strengthened and which services are less in demand and may need to be better adapted to the existing situation.
---
Recommendations to combat and better detect domestic violence during the pandemic

The lockdown measures to contain COVID-19 in spring 2020 also brought the issue of domestic violence increasingly into the public and police attention.

It was reported in the media, in politics and by NGOs that under COVID-19 conditions, especially women and children experience increased violence. The Director of the EU Agency for Fundamental Rights has called on the states not only to protect women during the pandemic, but "to strengthen their measures to end violence against women in the future". The European Institute for Gender Equality (EIGE) has also supported calls for the EU and its Member States to use the COVID-19 pandemic as an opportunity to step up their efforts to protect women's rights (Source: https://eige.europa.eu/printpdf/news/eu-rights-and-equality-agency-heads-lets-step-our-efforts-end-domestic-violence).

The World Health Organisation (WHO) and UN women have underlined the importance of data collection during the COVID 19 pandemic, which is a crucial tool to mitigate adverse effects on women and girls affected by violence and to develop prevention strategies for future crises (Source: https://www.unwomen.de/aktuelles/corona-eine-krise-der-frauen.html; https://www.unwomen.de/fileadmin/user_upload/Corona/gender-equality-in-the-wake-of-covid-19-en.pdf). For the future, it is crucial that research provides immediate and longer-term policy and practical responses.

The following recommendations were formulated:

Law enforcement authorities must ensure that domestic violence incidents are given high priority and that the manifestations of violence associated with COVID-19 are addressed.
The health sector must always ensure that victims of domestic violence have access to sexual and reproductive health information and services.
Social sector support services should increasingly provide online crisis support services such as hotlines and chats. Emergency care/day care services should be extended to all families – not only to parents working in systemically important jobs.

Aiming to reduce violence against women in different crisis situations and including women-specific needs in emergency and recovery plans

Adopt national action plans to improve the long-term response to gender-based violence in times of crisis
Implement measures to protect victims and their children from perpetrators through rapid removal of the perpetrator

Improving access to support services and limiting the impact of Covid-19 – and other potential crisis situations – on the functionality of support services

Adopt national legislation to ensure that support services for women victims of intimate partner violence and their children are recognised as essential services during states of emergency
Introduce helplines and communication tools that provide victims with the means to discreetly access support in times of crisis
Provide additional funding to expand the capacity of support services to support women victims of intimate partner violence and their children in times of crisis
Update service providers' procedures for risk assessment of victims to include remote service delivery rather than in-person settings only
Evaluate measures to protect women victims of intimate partner violence and their children in times of crisis to improve future action
Address the strain on service provider staff by adopting practices that support staff well-being
Use awareness-raising campaigns to inform victims about where and how to access support services in times of crisis
Provide comprehensive initial vocational and in-service training for professionals supporting victims of violence
Share knowledge and practices among the staff of support services to facilitate the effective delivery of remote counselling to women victims and their children

The Covid-19 Global Gender Response Tracker, jointly launched by UN Women and UNDP, provides a comprehensive overview of the political measures being taken worldwide.
---
How can victims of domestic violence be supported during a pandemic?

If victims of domestic violence do not want to turn to the police or help services because they do not trust state institutions or have already had bad experiences, the first step out of the violent situation can be taken with help lines or chats if this can be done safely at home. Further help is then possible.
It is important that victims are always made aware that the blame never lies with them and that what is happening is wrong. A clear statement and condemnation of domestic violence in the media – especially in times of pandemics – helps those affected to seek further support.
Concern about the economic consequences after separation can make it difficult for victims of domestic violence to find a way out of their situation: Some victims are financially dependent on their partner, for example because they are no longer able to go to paid work due to caring for family members and childcare, or because they were dismissed in the course of the COVID-19 pandemic. Some countries, like Germany, have a functioning system of assistance to alleviate financial hardship for victims of domestic violence after a separation. This is not the case in other countries.
Written information on violence in intimate relationships and domestic violence should be available in public space in the form of posters and brochures or leaflets which are made available in private areas such as washrooms (with appropriate warnings not to take them home if the perpetrator is there). Offering a QR code that leads to a website with further information can help here. The posters, brochures or leaflets should be aimed at female and male victims of domestic violence and not use stereotypes. The designation of concrete contact persons on site and the provision of telephone numbers of counselling centres or websites offering (anonymous) counselling can help victims of domestic violence to seek help.
In case of acute threat, the police emergency number should be called by victims. Name, address, further information and, if necessary, possession of a weapon of the perpetrator and emphasise that help is needed immediately should be given. Until the police arrives, victims and any children should take themselves to safety, for example to neighbours or shops.
---
What can perpetrators of violence do to change their behaviour?

Even during a pandemic, help is available for perpetrators of intimate partner violence in the form of online counselling, therapy and training programmes.
---
---
Case Study: Elder abuse

Winnie, aged 69 years, lives by herself in a small country town. She has been a patient of yours for a number of years. She has severe arthritis and requires more and more help with the activities of daily living. Even with regular visits from community services, she finds it difficult to cope, but she is adamant that she doesn't want to go to the regional hospital.

Eventually she moves in with her daughter and husband and their young sons. The neighbours begin to complain about the noise. Since Winnie has moved in, there is not much space in the house and the children are fighting more often, shouting and more often playing outside. Winnie's daughter receives no help from her other sisters and is expected to cope with the increased washing, cooking and other duties without complaint.

When you make house calls to Winnie you notice that she has marks and bruises on her arms and upper torso. These are explained away by her daughter, who says that she is becoming clumsier and keeps knocking into things, also Winnie is taking blood thinners. Winnie just shakes her head and says nothing, when you ask her if everything is ok at home, even when you speak to her in private. You are worried about pressing the issue since you do not want to upset anybody by raising a false alarm.

Adapted from a case study from RACGP (2014): Abuse and Violence: Working with our patients in general practice

Tasks

Discuss the case study.
a) What would you do when being Winnie´s physician in this situation?
b) What are the main risk factors that Winnie is at risk to suffer from domestic violence?

The answers to thoses tasks can be found in the corresponding sections of this module.

Primary care physicians need to be aware that abuse may be happening in this situation.

What could be done to help Winnie?

You may involve the home nursing service, home help, day centre, carer support groups or other local services to relieve the pressure on this family. Another alternative is to seek the help of an aged care assessment team if available.

Measures taken in Winnie´s case

Winnie remains living in her daughter's house with some extra support – for example, a toilet raise and respite care – which allows her daughter time out of the house; and Winnie attends the day centre once a week.

It is unclear whether this will alleviate the situation, so it is important to maintain a close watch on Winnie with weekly house calls.

For more information on elder abuse:
---
Risk Assessment and Safety Enhancement
Many victims who have been subjected to violence have fears about their safety. Other victims may not think they need a safety plan because they do not expect that the violence will happen again. Explain that domestic violence is not likely to stop on its own: It tends to continue and may over time become worse and happen more often.
Assessing and planning for safety is an ongoing process – it is not just a one-time conversation. You can help them by discussing their particular needs and situation and exploring their options and resources each time you see them, as their situation changes. Discuss whether it is safe for them to return home.
---
Risk Assessment
The patient should be helped to assess his or her immediate and future safety and that of his or her children. Risk assessment according to good practice includes
collecting relevant facts about the domestic situation
asking about the victim's perception of risk
a professional judgement on current risk factors
The patient may need to be referred to a specialised service for domestic violence. The strongest indicator for future risks/violence is the perpetrator's current and past behaviour. The patient may also be advised to go to the police to ensure even greater protection. However, since this is always accompanied by a report to the perpetrator and the victim is expected to reveal himself or herself to a wider circle of people, this advice must be weighed up very carefully!
It is important that the patient is involved in a conversation about his or her risk perception and security management in the past. All plans that have been made must be documented for future reference! Copies should be given to the victims, if possible. At the same time, they should be made aware that there is a risk that the perpetrator might find the document and that the violence will escalate.
Some victims will know when they are in immediate danger and are afraid to go home. If they are worried about their safety, take them seriously. This is your responsibility.
Other victims may need help thinking about their immediate risk. There are specific questions you can ask to see if it is safe for them to return to their home. It is important to find out if there is an immediate and likely risk of serious injury.
The internationally most frequently used risk assessment instruments can be found under Teaching Materials on the page risk assessment tools.
---
Communication with victims about safety measures and risk assessment
For an initial risk assessment this must be done at least: Talk to the victim in a private setting and to assess immediate concerns:
Questions to assess immediate risk of violence

Has the physical violence happened more often or gotten worse over the past 6 months?
Has he/she ever used a weapon or threatened you with a weapon?
Has he/she ever tried to strangle you?
Do you believe he/she would kill you?
Has he/she ever beaten you when you were pregnant?
Is he/she violently and constantly jealous of you?

Victims who answer "yes" to at least 3 of the following questions may be at especially high immediate risk of violence.
Making a safety plan

Even a victim who is not facing immediate serious risk could benefit from having a safety plan. If they have a plan, they will be better able to deal with the situation if violence suddenly occurs. The following elements are part of a safety plan and questions you can ask them to help them make a plan.

Safe place to go

"If you need to leave your home in a hurry, where could you go?"

Planning for children

"Would you go alone or take your children with you?"

Transport

"How will you get there?"

Items to take with you

"Do you need to take any documents, keys, money, clothes, or other things with you when you leave? What is essential?"

Financial

"Do you have access to money if you need to leave? Where is it kept? Can you get it in an emergency?"

Support of someone close by

"Is there a neighbour you can tell about the violence who can call the police or come with assistance for you if they hear sounds of violence coming from your home?"

Be careful in cases of honour-related violence.

Victims' needs generally are beyond what you can provide in a hospital or private practice. You can help by discussing the victim's needs with them, telling them about other sources of help, and assisting them to get help if they want it. It will usually not be possible to deal with all their concerns at the first meeting. Let them know that you are available to meet again to talk about other issues.

Do not expect them to make decisions immediately. It may seem frustrating if they do not seem to be taking steps to change their situation. However, they will need to take their time and do what they think is right for them. Always respect their wishes and decisions.
---
Immediate risk of suicide and self-injury
Some people fear that the question of suicide might provoke the victim to commit it. On the contrary, talking about suicide often reduces the victim's fear of suicidal thoughts and helps him or her to feel understood.
If the victim:
has current thoughts or plans to commit suicide or to harm himself or herself
or
If there is a history of thoughts or plans for self-harm in the past month or a record of self-harm in the past year, and the patient now appears extremely agitated, violent, desperate or uncommunicative, then there is an imminent danger of self-harm or suicide and the patient should not be left alone.
The victim should then be immediately transferred to a psychiatric hospital. If the patient refuses to go there alone, he or she should be accompanied or an accompanying person should be contacted. If the patient runs away or does not report to the clinic at the agreed time of arrival, the fire brigade should be called in. Breaking confidentiality is not a legal problem in this case. On the contrary, one is even obliged to report an acute self-endangerment.
---
Information about the usage of risk assessment tools in Europe regarding the Health Sector
Risk Assessment procedures and response strategies in different European countries in the Health Sector

We do not have comprehensive information about a standardized risk assessment tool in Scotland, though NHS Health Scotland is promoting the use of the DASH RIC amongst Health Visitors. With regard to other groups of health workers in Scotland, training on the use of the DASH RIC varies across health board areas. Some have done training with mental health and sexual health staff, but this is not consistent across the country. In most of the participating countries, including France, Germany, Slovenia and Hungary are there are no formalized DV risk assessment processes in the health sector. A prevalent opinion within the medical professionals of these countries is that they do not see DV-related risk assessment as part of their job. According to their understanding the health sector's responsibility is restricted to document the incident and the injuries. According to our understanding this attitude is not very beneficial, since health care is an entry point for many DV cases, which might remain in latency in case of an insufficient risk assessment.

In Austria, Child- and Victims Protection Groups are discretionally used as part of risk assessment in hospitals, developed by national authorities and professionals (based on Campbell's Danger Assessment) and adapted during the initiative "Living FREE of violence". The tool in this form is solely used by medical professionals, but includes indicators compatible with others based on the Danger Assessment (Campbell, 19xx). The assessment consists of questions seeking to reconstruct past incidents of violence in the relationship and a checklist to guide possible steps to increase the security of the victim. The medical sector further employs a standardized forensic documentation procedure in cases physical injury. This also includes indicators relevant to risk-assessments in cases of DV.

The tool is used by internal experts on DV within hospitals, but physicians and other medical professionals are trained by them to use the tool and to cooperate in the risk assessment procedure.

In Finland, some emergency units use PAKE Abuse and Body Map form, which is a tool used in assault and abuse cases (not just DV cases). Medical professionals, doctors and nurses are trained to use this tool. The purpose of the PAKE form is to improve the comprehensive treatment of the victim, including psychological condition and legal representation. It also intends to facilitate cooperation between health care, social work, the police and judicial authorities, and to advice the victim about available services. PAKE involves a detailed map of injuries. It covers the cause of the injury, the violent action, consequences of the action, further threats, pain, victims' psychological condition, the involvement of children, and the follow-up treatment. PAKE is mandatory in those emergency rooms where it has been implemented. A doctor writes a medical report based on the PAKE form and sends it to the police if the victim gives his or her consent. However, health care professionals can only encourage the victim to report an offence to the police and can send information to the police only if the victim gives his or her consent.

In Portugal, there are two different sectors of the health system that face DV victims: hospitals and health centres. The first ones deal predominantly with emergencies, often quite close after a DV incident; the second ones deal with situations known within regular medical appointments (indoor approach) and during community medical work (outdoor approach). Both sectors mandatorily use standardized, locally invented risk assessment tools, owned by the Ministry of Health. An interdisciplinary team, including medical doctors, nurses, psychologists, social workers and even the police, if necessary, ensures that the risk assessment procedure is participatory and multidisciplinary. The tool includes a set of various steps to consider: (1) screening, (2) detecting/assessing, (3) diagnostic evaluation (hypothesis), (4) registering, (5) acting, and (6) signalling. Risk indicators cover different forms of threats, injuries; severity, intensity and frequency of violence; involvement of alcohol or other substances; and crime history. The risk assessment tool also contains items related with the risk perception of the victim. Imminent danger is diagnosed when there is the possibility of experiencing an imminent episode of violence, life-threatening for the victim (and/or her/his significant persons). It is based on information from the interview, the victim's perception, a bio psychosocial assessment, and a physical exam.
Shortcomings

In Austria, main shortcomings described are not related to the tools employed, but to the environment they are used in. Time constraints are mentioned and in some hospitals the lack of mandatory sensitivity trainings for medical stuff to gain expertise in using the tool. The Child- and Victims Protection Groups are not yet implemented in all hospitals in Austria, since roll out is going on. Implementation is seen predominantly in hospitals that were involved in the project "Gewaltfreileben" (Living Free of Violence) in Vienna. The risk assessment process and the groups are not regulated on a policy level. This seems to be an important gap in response to the high importance of hospitals for the identification and treatment of victims of DV.

In Finland a shortcoming mentioned in relation to the PAKE form is the paper form. In case of an electronic form it would be much easier to share information among the agencies. It might also vary how systematically PAKE is used in other areas in Finland.

In Portugal, two shortcomings are mentioned in relation to the risk assessment tool used at health care services. First, the time consuming nature of the procedure, second, that frontline responders were not involved in the design of the risk assessment policy, despite the fact that they have proper knowledge.
Suggested improvements

Interviewees of all countries that use DV risk assessment tools in health care emphasized the importance of continuous, mandatory training of the FLR's for the use of the risk assessment tool, and the lack of sufficient trainings and properly trained staff as a problem.
Further information about risk assessment procedures in different European Countries can be found here:
---
Icon made by Freepik from www.flaticon.com
---
---
IMPRODOVA Checklist for risk assessment of domestic violence
Within the framework of a sub-project of the EU project IMPRODOVA, the partners developed a checklist for risk assessment in the case of domestic violence (D 3.3), which can be downloaded and printed out. In this way you have – in short form – all information at a glance when you need it.
IMPRODOVA Risk Assessment Integration Module
You can follow the whole risk assessment procedure for a specific case by downloading the following presentation. You will be introduced to Nora and learn a lot about the different roles of frontline responders.
You can check the Module online without using Powerpoint by clicking on this link:
If you want to use Powerpoint, please download the presentation by clicking this link: