Help offered by social services

Spotlight on the school sector: Documentation & legal aspects
Learning objectives
This module presents the help offered by Social Services after the disclosure of domestic violence. The learning materials are not tailored to the needs of every country; they include generic cases that need local adaptation.
---
---
Help offered by social services
Crisis information

Access to timely, complete, and accurate crisis information for any victim who has, or is, experiencing physical, sexual, or other forms of violence, wherever they are, at whatever time, day or night, is vital in supporting them to access services to assist their safety. Crisis information includes information about their rights as victims, the range and nature of services available, and is provided in a non-blaming, non-judgmental manner. Information must be made available in a way that enables victims to consider the range and choices available to them, and to make their own choices.

Ensure crisis information is clear, concise, and accurate.
Ensure crisis information identifies and refers to the range of existing services available for victims of domestic violence.
Ensure that this information is widely available and accessible to all victims.
Ensure widespread distribution of culturally sensitive information through various and relevant media, in a variety of locations and settings throughout the region/country.
Crisis counselling

Crisis counselling is essential in assisting victims to achieve immediate safety, understand their rights and reduce feelings of guilt and shame. It requires patience, respect, and transparency towards the victims.

Provide crisis counselling free of charge.
Ensure victims are listened to and believed.
Ensure victims are offered a range of options including:
decision support,
immediate access to safe and secure accommodation,
immediate access to safe emergency and medical services such as hospitals,
the ability to re-contact the service, even if victims choose not to take up any of the options offered.
Ensure victims are supported to make informed choices.
Provide crisis counselling in person, via telephone, mobile phone, or email.
Ensure crisis counselling is provided in various locations and diverse settings.
Help lines

Help lines provide an essential link to information, counselling, and support services for victims experiencing domestic violence. Help lines operate separate to, but alongside, law enforcement and other emergency help lines.

Provide telephone help lines free of charge or toll-free.
Provide help lines preferably 24 hours a day, 7 days a week, or at a minimum, for four hours per day including weekends and holidays.
Ensure that staff answering help lines has appropriate knowledge, skills and is adequately trained.
Ensure that the help line has protocols connecting it with other Social Services, and health and justice services to respond to individual circumstances of victims.
Provide immediate basic personal and health care items including food and clothing, either directly or through local services.
Link to immediate and appropriate police and justice responses, when requested by victims or when necessary.
Safe accommodation

Many victims immediately need to leave their existing living arrangements in order to be safe. Timely access to safe houses, refuges, shelters, or other safe spaces can provide an immediate secure and safe accommodation option. Beyond this immediate safe accommodation victims may need support toward securing accommodation in the medium to longer term.

Provide safe and secure emergency accommodation until the immediate threat is removed.
Have a confidential location where possible.
Ensure security personnel and security systems.
Ensure there is an access protocol for people entering and exiting safe accommodation.
Provide basic accommodation needs that are free of charge.
Ensure there is a protocol for unaccompanied children, including for longer-term alternative care where necessary and appropriate, that is aligned to existing national legislation and international standards.
Ensure that accommodation is accessible for victims with disabilities.
Provide an assessment of the vicitim's immediate needs.
Develop an individualised support plan for the victim in consultation with them.
Material and financial aid

In the immediate crisis period, it should be assumed that victims have little or no access to material resources. Material and financial aid includes the necessary support and resources to enable access to crisis information and counselling, safe accommodation, and food.

Provide support to access immediate basic individual needs of each victim including access to emergency transport, food, and safe accommodation that are free of charge.
Ensure aid provides for the needs of individual children.
Provide in-kind and other non-monetary aid such as basic personal and health care items.
Ensure a range of means for victims to safely access material and financial aid.
Legal information about domestic violence and representation of victims' rights

Many victims are likely to have limited knowledge in relation to their rights and range of options available to them. Accurate and timely information about such matters as divorce/marriage laws, child custody, guardianship, migration status and assistance to navigate justice and police responses are important in protecting the safety of victims.

Provide legal rights information, representation regarding domestic violence that is free of charge.
Provide information in a written form (and in a language that the victim can understand), orally, and/or in a form that the victim is familiar with.
Provide clear and accurate information about:

available security measures that can prevent further harm by the alleged perpetrator,
procedures and timelines in the national legal framework.

Document all legal advice in order to assist victims with any future action they might take.
Psycho-social support and counselling

Specialist counselling can greatly improve the health outlook for victims which can consequently improve their access to education and employment.

Provide support/counselling that are free of charge.
Ensure victims have access to atleast a minimum number of support/counselling sessions.
Ensure counselling is informed about the experience of violence.
Ensure counselling is human rights-based and culturally sensitive.
Services for children

The effect of experiencing violence directly or indirectly can have a devastating impact on children. Children have the right to access services that are age-appropriate, child-sensitive, and child-friendly.

Provide services for children that are free of charge.
Provide services that are age-appropriate, child-sensitive, child-friendly and in line with international standards.
Provide child-centred rights-based counselling and psycho-social support.
Facilitate access to legal representation for children where required, for example a (legal) guardian if the child is unaccompanied.
Ensure timely referrals and facilitated access to necessary services, for example to child protection to address issues regarding guardianship, healthcare and education.
Ensure staff receives training on child-sensitive and child-friendly procedures.
Perpetrator programs

An essential element of successful work with perpetrators are cooperation alliances with the police, the public prosecutor's office, courts, victim protection organisations, probation services, youth welfare offices, the medical sector and counselling centres. In the interests of victim protection, close cooperation with the regional (women's) support institutions and the development of joint procedures against domestic violence are necessary and must be promoted. The cooperation serves to provide mutual information on work concepts and binding agreements for coordinated cooperation across cases and on a case-by-case basis.

Domestic violence perpetrator programs pursue the following objectives:

no renewed use of violence: the spiral of violence must be interrupted quickly and sustainably,
acceptance of responsibility by the perpetrators for their actions,
acquirement of a better self-perception and self-control,
support perpetrators' capacity for empathy,
learning of alternative conflict resolution strategies,
fostering of increased relationship abilities.
---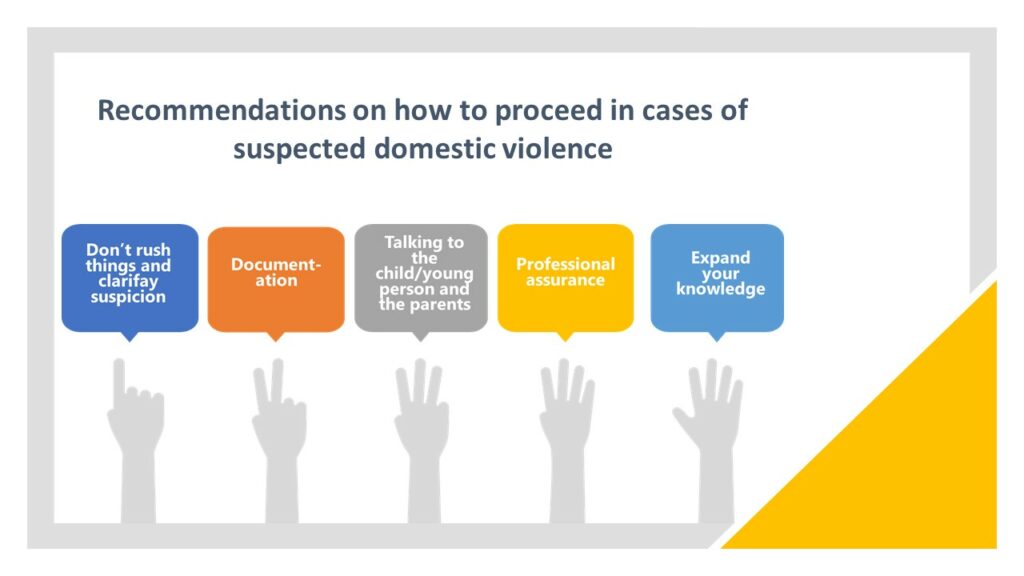 Documentation

Compile your observations and keep records. Systematic documentation of a child's or adolescent's behaviour, expressions and actions are an important source of information for assessing the suspicion and planning further action. Possible causes for the child´s or adolescent's behaviour and further action steps for the specific child or adolescent could be discussed with a team at work and/or by speaking with a colleague. The observations and documentation could also serve as a basis when communicating with the parents and with other institutions/organisations, e.g., the youth welfare office.
Who can I turn to?

The help that a child or adolescent affected by domestic violence and his or her family need is usually very complex and time-consuming. They cannot be provided by one person or institution alone. Cooperation with other support institutions is necessary.

You have the following options; whereby anonymous counselling is possible for all of the following offers.

Stay in contact with your colleagues and superiors, especially in phases when you feel insecure. Conduct case conferences with your colleagues (possibly including the contact person of the youth welfare office).
Take advantage of telephone or personal counselling by the police. However, you should note that the police are obliged to prosecute criminal offences. If the police become aware of a child's or adolescent´s well-being being endangered by abuse or neglect, criminal measures must be taken.
Contact the youth welfare office if there are indications that the child or adolescent is at risk in the family and the persons concerned cannot or do not want to seek help of their own accord. Here, too, you can first take advantage of counselling by telephone or in person. Youth welfare offices are not obliged to report such offences or to inform the police. Priority is given to the protection of the best interests of the child. In the case of adolescents this is often perceived in consultation with Social Services and counselling centres in such a way that individual help and protection concepts are developed with the adolescent's support.
Authorities or counselling facilities of independent institutions should always be informed with the the child's or adolescent's and the legal guardians' consent. However, authorities can also be involved without this consent if the child's or adolescent's well-being is at high risk. Making the case anonymous is a way of obtaining competent advice without breaching confidentiality. Facilities in the field of youth welfare such as child and youth emergency services, child protection centres, educational counselling centres and a partner, marriage, family and life counselling service offer advice and help.
School psychological counselling centres can also be involved in conflict management. They advise those seeking advice and can establish contacts with other specialised counselling centres.
Health care facilities such as public health offices, paediatricians and general practitioners, children's hospitals and child and youth psychiatric facilities have the important task of investigating the causes of health hazards and eliminating harmful factors. The opportunity to do this is particularly offered within the framework of school health care, especially during school enrolment examinations.
Take the respective cultural background and the question of residence status into account in every offer of help.
What are the legal obligations for teachers?

Do I have to inform the youth welfare office if I have a suspicion?

Teachers are obliged to inform parents about indications of a risk to the child's or young person's well-being, as long as this does not jeopardise his/her protection. It may therefore be necessary to seek outside expertise to assess the risk situation before considering further steps. If there is a well-founded suspicion of neglect or maltreatment, a decision should be made in consultation with the school management whether to file a criminal complaint. In individual cases, however, it may make more sense to involve competent authorities such as the youth welfare office and to take other appropriate measures to help the pupil.

What should I do if I suspect that a pupil is being abused or neglected at home?

There is no standard guidance how the pupil can be helped best: e.g., other agencies could be involved or a report could be sent to the youth welfare office. Some countries have a mandatory obligation to help included in their laws. Some schools have included the obligation to intervene in case of signs of child abuse or neglect in their statutes or in the school programme.

Whether parents are to be informed of a suspicion depends very much on the individual case and the relevant country regulations. In principle, parents have a right to be informed, as they are also responsible for protecting children from danger for their own good. If it can be assumed that the parents or other guardians may be the perpetrators or accomplices, the parents should not be approached at first. In this individual case, the parents are also not informed that, for example, the school has passed on the suspicion to the youth welfare office.

Do I have to take any action at all?

Yes. The duty to act follows directly from the school's, and thus the teachers', duty of care. It must also be taken into account that teachers and school management may be liable to prosecution under the Criminal Code if they do nothing at all despite clear signs of abuse and neglect of a pupil.

May I act on my own authority?

Teachers must observe the official channels and, in particular, coordinate every external action with the head of the school. However, the official channels do not have to be adhered to when, for example, discussions are held with parents or informal advice is sought from other institutions (e.g., the youth welfare office).

Do I have a duty to report to the police?

In Germany for example, there is no statutory obligation to report suspected child abuse or neglect to the police or any other competent authority. However, this may be different in other countries.

Assuming that the suspicion turns out to be false, do I have to fear charges from the falsely suspected parents myself?

Only if the teacher or the school disregard objective facts, it can happen that the wrongfully filed report of possible child abuse has detrimental consequences.

Do I have to cooperate if I am asked for help by the youth welfare office or the police when there is a suspicion of child abuse?

Yes, you would be a witness in such preliminary proceedings. Further obligations may arise from the respective country civil service regulations.

Does the school have to notify the parents of the child or adolescent concerned if it has decided to inform the police or the youth welfare office of its suspicions?

In principle, the parents must first be informed of the indications and, if necessary, asked to seek help from the youth welfare office. If the effective protection of the child or adolescent would be called into question by the parents' involvement, the school is authorised to inform the youth welfare office directly. The youth welfare office then has the task of fulfilling the protection mandate in order to avert a risk to the child's or young person's well-being. The task of hearing witnesses or possible suspects is the police's and the judiciary's responsibility. In this case, informing the parents could jeopardise the investigation if they had to be included in the circle of possible suspects.
---