Prevalence data and victim surveys
Costs of domestic violence
Age distribution of domestic violence
Number of deaths
Prevalence data and victim surveys
Prevalence Study Austria: Kapella, Olaf (2011): Gewalterfahrungen von Frauen. Formen und Ausmaß. Österreichische Prävalenzstudie 2011. Hg.: Österreichisches Institut für Familienforschung.
29.5 percent of the women interviewed in Austria (one in three) bibliography have already been victims of sexualised violence. They were raped, attempted to be raped, or forced to perform sexual acts against their will. 56.8 percent of the women have already experienced physical violence. Every third woman received a light slap in the face, 5 percent were beaten up. (Violence in the family and in the close social environment. Austrian Prevalence Study on Violence against Women and Men, 2011. BMWFJ, ed. ÖIF// Gewalt in der Familie und im nahen sozialen Umfeld. Österreichische Prävalenzstudie zur Gewalt an Frauen und Männern, 2011. BMWFJ, Hg. ÖIF)".
Prevalence Study Fundamental Rights Agency
In Austria, every fifth woman (i.e. 20 percent of women) has experienced physical and/or sexual violence since the age of 15. 15 percent of women have experienced stalking since the age of 15. Every third woman (exactly 35 percent) has experienced some form of sexual harassment since the age of 15. Psychological violence by their (ex-)partner has been experienced by 38 percent of the women since the age of 15. (FRA study. Violence against women. An EU-wide survey. 2014// FRA-Studie. Gewalt gegen Frauen. Eine EU-weite Erhebung. 2014)
Number of restraining order issued in Austria (SOURCE: Annual Report from the Domestic Abuse Intervention Centre Vienna//Jahresbericht Interventionsstelle Wien 2017)
---
Costs of domestic violence
The Austrian state currently provides a budget of ten million Euros annually for prevention of violence against women and measures to improve equal opportunity. In stark contrast to this number, an alliance of over forty organizations involved in combating violence (including domestic abuse), has demanded an increase of this annual budget to the sum of 210 million Euros. This sum envisioned by the alliance GewaltFREI Leben (Living Free of Violence) is intended not only to remedy chronic underfunding of social sector organizations, but to finance a comprehensive long-term action plan to combat violence against women and children, including funds for research, international cooperation, and necessary improvements to the judicial system.
1998 saw one of the first comprehensive attempts to calculate the national cost of domestic violence in a European country. In their study, Godenzi and Yodanis enumerated the cost of physical, sexual and psychological violence in Switzerland with the equivalent of 262 million Euros annually, including expenditure in law enforcement and judiciary, medical treatment, and victim's support in the social sector. Six years later, Sylvia Walby placed the cost of domestic violence in England and Wales at 33,1 billion Pounds. Her methodology included costs to the criminal justice system, health care, social services, housing and refugees, as well as civil legal services. Moreover, she included lost economic output due to victimization as well as the human and emotional costs, based on estimates of what people would be willing to pay to avoid such injuries. Silvia Sacco's 2017 study4 for Germany estimates the annual costs at 3,8 billion Euros including similar intangible costs such as the loss of quality of life by victims of domestic violence. In Finland, Piispa and Heiskanen5 (2001) estimated the costs of violence against women, perpetrated in particular by their ex-partners, to be 50 million euros annually. They included direct costs to law enforcement, judiciary, prisons, health care providers and social sector organizations, as well as indirect costs in the form of loss of productivity and income. A similar study for Austria6 by Birgit Haller and Evelyn David (2005), placed the direct and indirect costs based on verifiable actual expenditure at 78 million Euros annually, while stressing the detrimental lack of statistical and financial data collected on the topic.
References

https://www.bmf.gv.at/themen/budget/das-budget/budget-2018-2019.html

Godenzi, A., & Yodanis, C. L. (1998). Erster Bericht zu den ökonomischen Kosten der Gewalt gegen Frauen. Universität Freiburg.

Walby, S. (2004). The cost of domestic violence. Women and Equality Unit (DTI).

Sacco, S. (2017). Häusliche Gewalt Kostenstudie für Deutschland. Gewalt gegen Frauen in (ehemaligen) Partnerschaften. Hamburg: Tredition.

Piispa, M., & Heiskanen, M. (2001). The price of violence. The costs of men's violence against women in Finland. Statistics Finland and Council for Equality, Ministry of Social Affairs and Health, Helsinki.

Haller, B., & Dawid, E. (2006). Kosten häuslicher Gewalt in Österreich. Institut für Konfliktforschung
---
Age distribution of domestic violence
The statistics Austria recorded the following attempted or completed crimes in 2018:
All forms of assault (intentional and unintentional): 8087 convictions (§§83-89 StGB)
Bodily harm (intentional): 4551 convictions (83)
Dangerous bodily harm (intentional): 1700 convictions (§84)
Intentional dangerous bodily harm: 207 convictions (§87)
Convictions of crimes against freedom (threat, stalking, coercion, serve coercion, continued use of force): 3777 convictions (§§ 105,106,107-107b)
Deprivation of liberty: 86 convictions (§99)
Sexual assault and rape: 175 convictions (§201 rape: 123, §202 sexual assault: 52)
Murder and homicide: 88 convictions (83 murder, 5 homicide)
The Police Crime Statistics 2018 reported following reported crimes (attempted or completed):
All forms of assault (intentional and unintentional): 48.731 (§§83-89 StGB)
Bodily harm (intentional): 33.946 (§83)
Dangerous bodily harm: 3.202 (§84)
Intentional dangerous bodily harm: 485 (§87)
Crimes against freedom (threat, stalking, coercion, serve coercion, continued use of force): 21.491 (§§ 105,106,107-107b)
Deprivation of liberty: 399 (§99)
Sexual assault and rape: 1.230 (§201 rape: 936, §202 sexual assault: 294)
Murder and homicide: 190 (§§75,76:190 murder, 0 homicide)
The graphic above shows the data of the table of victims according to selected offences, which has been reported by the Police in 2018. There is no specific data on domestic violence in Austria.
https://bundeskriminalamt.at/501/Tabellen_Statistik_2018.aspx#pk_01
The Federal Criminal Police Office reported a total of 81.770 people, who became victims of reported acts of violence in 2018 (2017: 81,937, – 0.2 per cent). 46,934 of the victims were male (2017: 46,611 men, + 0.7 per cent) and 34,836 female (2017: 35,326 women, – 1.4 per cent). The largest number of victims (26,681) are between 25 and 39 years of age, followed by those aged 40 to 64 (21,193). 5,631 children under 14 years of age were victims of reported acts of violence (0 to 5: 839, 6 to 9: 1,168, 10 to 13: 3,624). 30.7 per cent (25,123 persons) of the victims are strangers (2017: 25,040 persons).
https://bundeskriminalamt.at/news.aspx?id=53457A393463735342686B3D
Olaf (2011): Experiences of violence by women. Forms and extent. Austrian Prevalence Study 2011, ed.: Austrian Institute for Family Research. (p. 10, 77)//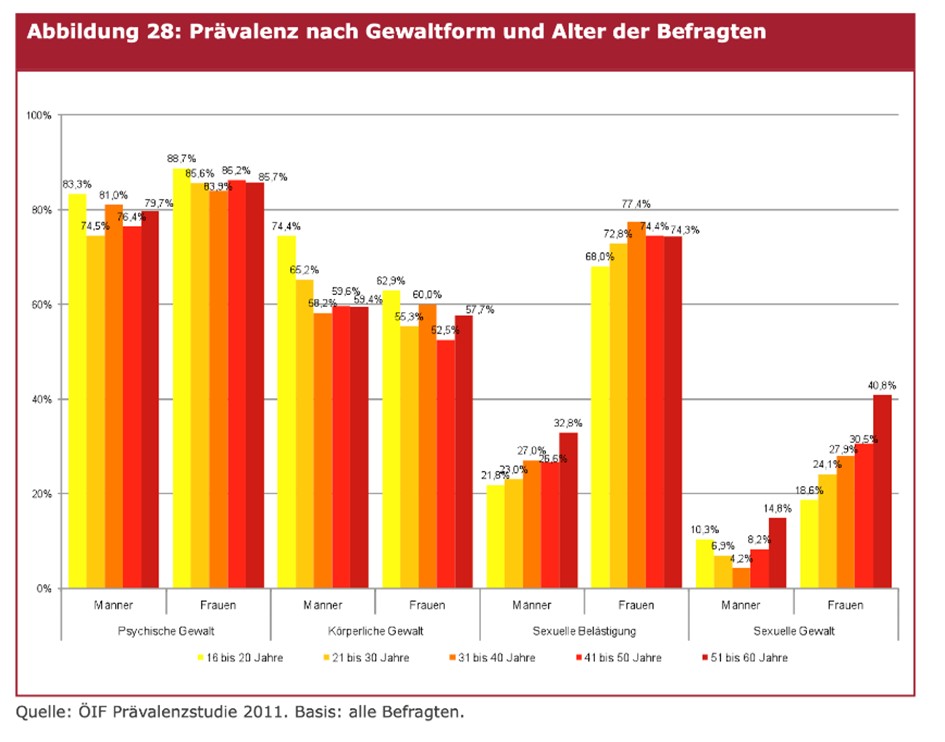 "The age-specific analysis shows that the older generation has experienced violence significantly more frequently in their childhood than the younger generation. This becomes particularly clear in the case of physical violence. The social development of the last decade has led to the fact that the corporal punishment of children is less and less tolerated both socially and legally. For example, while eight out of ten women and almost nine out of ten men aged between 51 and 60 years were exposed to physical violence in their childhood (men: 86.3%; women 80.8%), around 55% of women and men in the group of today's 16 to 20 year-olds report having experienced physical violence. The proportion of those physically abused in childhood has thus fallen by around 25 to 30 percentage points between the oldest and the youngest age groups."
---
Number of deaths
https://www.interventionsstelle-wien.at/download/?id=719 (S. 54)
"In Austria, there is no institution that statistically records how many women die each year from violence in relationships. We know that a large proportion of murders take place in the social environment, often also in the area of violence in the family and in relationships. The statistics do not break down the data on the relationship between victim and suspect by gender (i.e. the gender of victim and perpetrator is not given), although it is stated that the majority of murders are relational crimes: In almost 69% of murder cases the suspects are family members or acquaintances. According to estimates by victim protection institutions, 25 to 30 women are murdered by their (ex-)partners every year in Austria. This figure does not include attempted murders, of which the police crime statistics even record 130 cases in 2018."
In 2018 the Police Crime Statistics (p. 23) shows that in a total of 18.714 of a total of 73.811 violent crimes takes places between family relatives in the same or in different households. In 2018, 41 women were murdered, 60 murders were reported. 25,35% of all violent crimes in Austria in 2018 took place between family related people. In addition, further a total of 21.297 violent crimes took place between people relating to each other without family members.
According to the Police Crime Statistics 2019 (p.31), a total of 39 women from 65 murders were murdered. In 78,5 % of all murders, there was a relationship reported between the perpetrator and the victim. 58,2 % of all murdered victims were women, most of them in a domestic context.