Domestic violence in the media
Learning objectives
This module presents the different ways of asking about domestic violence in situations where you suspect the presence of domestic violence. Furthermore, first steps after the disclosure of domestic violence are presented.
---
IMPRODOVA: How to respond to a disclosure
The video illustrates how one should respond to a disclosure in cases of domestic violence.
---
Scenario: Men threatens to kill his wife

On November 19, 2011, at 9:27 pm, the emergency call center of the police headquarters of XY was called. The caller told the police officer who he was, and said he was going to kill his wife. He said he was at home, which prompted the police to send a patrol car to the scene. When questioned by police officers, he said in the police officer's interview that he and his wife had disputes about apartments and weekend places that they shared. He also told the police officers that he was constantly harassed by his wife and her current boyfriend, and if the officers did not resolve the matter immediately, he would go to her home and slaughter the woman. He repeated this threat several times.

The man is already known to the police because of incidents of domestic violence.

Task

Discuss the following:
what measures do you have to take as a police officer?
a) I would advise the wife to resolve the dispute with her partner.
b) I would gather as much information as possible from the wife and others to justify a ban on contact for the husband to protect the victim; I would inform the prosecutor about the incident and try to convince him to bring the suspect before the investigating judge for previous acts of violence. (This is the right answer!)
c) I would reassure the husband, send him to bed and ask him to settle the dispute peacefully.

The answers to those tasks can be found in the corresponding sections of this module.
---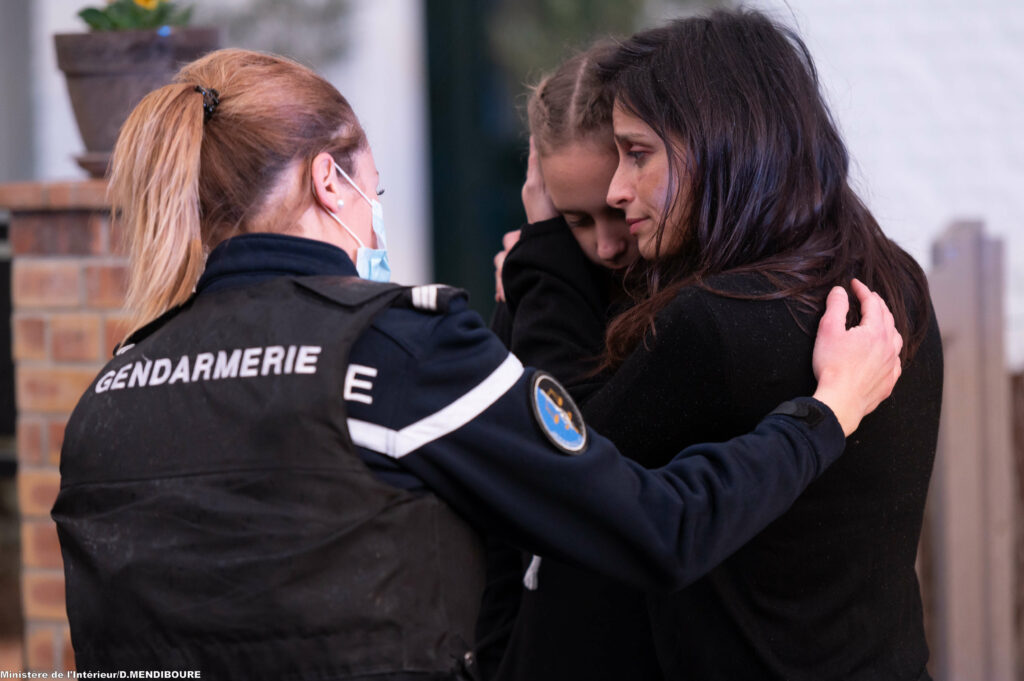 ---
Framework conditions for a conversation on domestic violence

First of all: don't be afraid to help, even if you don't know exactly what to do in a specific situation.

The important thing is to communicate with the victim in the first place.

Listening
Validation of the disclosure decision
Emphasis on the unacceptability of violence without judging the perpetrator
Make it clear that the victim is not to blame
Do not ask questions that could cause stress and a feeling of powerlessness in the victim

Interviewing victims of domestic violence should always be combined with effective intervention, including a supportive response, appropriate care as needed, and referral to, for example, the health system or other support services.

Make time for the victim

Choose a calm and cosy place. Make sure you have the time to listen to the victim if she/he decides to disclose or tell the whole story.
It is important to raise a suspicion in a sphere of trust. This should happen alone with the victim in a room without disturbance. It is useful if the person who talks to the victim has the same sex. It is important to be careful and empathetic.

Start talking

Let the victim know that you are there to help. Offer a sympathetic ear, and make sure the victim understands you are concerned for her/his safety. Don't rush the process.

Don't be judgemental

Give the victim the opportunity to fully speak up. You want to get a good picture of the situation, so you'd better not make comments on what the victim presents. If questions arise, they must be clarifying ones. Questions inducing any kind of criticism must be avoided.
Let the victims know this is a judgment-free conversation. Offer your support and provide ways to get help. Help them look into available resources. If they're not ready to talk about it, don't force it. It's important to recognise the right time. Encouragement helps.
Keep your mind objective. Don't take sides or share your personal attitudes, beliefs, or thoughts.
Always be open, honest, non-judgmental, empathetic, and supportive.

Be aware of the warning signs

Many victims try to cover up the abuse. You need to be aware of the indicators that could be a possible hint for abuse.

Validate the victim's feelings

Sometimes, victims express conflicting feelings about their partner and their situation (guilt vs. anger; hope vs. despair; love vs. fear). Let the victim know that having these conflicting feelings is common (normal). But, at the same time, you should stress that violence is not okay, and it is not okay to live in constant fear of being attacked or hurt. Even if the victim presents reasons for her/his staying with the offender, when fear is present it means the relationship isn't healthy.
Without judging, tell the victim that her/his situation is dangerous, and that you're concerned for her/his safety.

Why police officers get frustrated when working in/with domestic violence cases

Slowness of the judicial apparatus when dealing with domestic violence cases (e.g., the time lag between police procedures and the final judicial decision)
Lack of competences or resources of the police
Generational differences between younger and older police officers impacting frontline response to domestic violence calls
How to talk to a victim

In general, it is useful to use "I-Messages" and other non-violent communication methods. It can be used specifically to solve ambivalences in a victim during the counselling or in case of less time for counselling. Keep in mind, the victim needs to tell and name the act by herself/himself.

You could start with:

"I know many women have problems facing violence by their partners or other family members. Could it be, that this is the same in your case?"
"Has there been any violence in your relationship?"/"Did someone hurt you?"
"I know it is difficult to talk about family problems, but I am worried about you."

Offer support

Assure the victim she/he is not alone, and that you are not going to be judgemental. E.g.:

"I know this is difficult to discuss, but you can talk to me about anything."
"You are not alone. I'm here for you, no matter what."
"You are not responsible for what's going on."
"No matter what you did, you don't deserve this."

Express your concern for the victim's safety

It is important to help the victim recognise the abuse while acknowledging the difficulty of her/his situation. So, don't be afraid to let the victim know you are worried.

"I see what's going on, and I want to help you."
"You don't deserve to be treated that way. Good partners/family members don't say – or do – those kinds of things."
"I'm worried about your safety, and afraid you'll really get hurt if there is a next time."
"Please, know that if you need to talk, you can always come to me."

Avoid confrontation

If the victim is not ready to talk about the situation, do not force it. Recognise the right time and let the victim know about it.

"I'm here to help, and I'm always available, even if I understand that you don't want to talk about it now."
"Remember that you're not alone. I'll be here for you when you're ready."

Let the victim make his/her own decisions

Avoid making judgments about the victim's ability to make decisions, thus preventing that she/he loses confidence in you. Encouragement and asking is the key.

"I want to help you. What can I do to support you?"
"How can I help to protect your safety?"

Provide ways to get help

Help the victim listing available resources (state agencies, NGOs, family members, friends, neighbours).

"Here is the number to your local domestic violence office. They can help with shelter and counselling."
"Let's develop a safety plan."

What not to say or do to a domestic violence victim

Although there is no right or wrong way to help a domestic violence victim,

DON'T

bash the abuser. Focus on the behaviour, not the personality;
blame the victim. That is what the abuser usually does;
underestimate the potential danger for the victim and yourself;
promise any help that you can't follow through with;
give conditional support;
do anything that might provoke the abuser;
pressure the victim;
give up. If she/he is not willing to open up at first, be patient;
do anything to make it more difficult for the victim;
tell her/him about your own experiences of violence or exploitation;
give statements that are based on anything else than facts;
justify the acts of violence.
Responding to a disclosure

Assessment of the victim's needs and concerns

When listening to the victim's story, special attention should be paid to what he or she says about his or her needs and concerns – and what is not said but hinted at with words or body language. You can inform the victim about physical, emotional, or economic needs, about the security concerns or social support he or she needs. The following techniques can be used to help the victim express his or her needs and to make sure that you are understanding.

Questions should be phrased as invitations to speak.

"What would you like to talk about?"

Open questions should be asked to encourage the victim to talk instead of saying yes or no.

"What do you think?"

What the victim says should be repeated to check your own understanding.

"You mentioned that you feel very frustrated."

The victim's feelings should be reflected.

"It sounds as if you are angry about this…"

The victim should be helped to identify and express their needs and concerns.

"Is there anything you need or are worried about?"

What the victim has expressed should be summarised.

"You seem to be saying that…"

There should be no suggestive questions like:

"I imagine that upsets you, doesn't it?"

No "why" questions should be asked, such as:

"Why did you do that?"

It might sound reproachful.

The victim should understand that his or her feelings are normal, that it is safe to express them, and that he or she has a right to live without violence and fear.

Help is available for both, for the victim and the person responsible for violence. Offer information about the support available.
Be respectful and build trust.
Take the victim seriously.
Pay attention and listen to the victim. Active listening for example means paraphrasing and active body language.
Be empathetic. Appreciate the victim's experiences. Signalise that there is no excuse for violent behaviour.
Lay off the pressure.
Be patient and take time.
Don't advise things like "You should definitely get divorced".
Avoid convicting or condemning statements such as "Why didn't you leave your husband long ago?" or "Why didn't you come earlier?".
Use of an interpreter

If the victim's language skills are an obstacle to discussing these issues, a qualified interpreter or representative of the local Domestic Violence Unit should be used. This person should be of the same sex as the victim and sign a confidentiality agreement. Interpreters are supposed to translate exactly what was said without adding their own interpretations. At the beginning of the interview, a professional should always carefully go through the guidelines (e.g., confidentiality, victim's rights to ask for a break). During the conversation, the victim should be looked at and talked to. The patient's partner, other family members or children should not be used as interpreters. It could jeopardise the victim's safety, or they may feel uncomfortable talking about their situation. If a language group is very small in a country, there is always a danger that the victim and the interpreter know each other directly or indirectly. Always ask whether the victim has any preferences about the interpreter and do not assume which background, gender, or country of origin the victim prefers the interpreter should have.
Special case: if the victim is a child

Child abuse can occur in countless ways, and the effects vary from child to child. While some children may have bruises or injuries that raise suspicion, this is not always the case. However, the majority of children is less likely to suffer direct physical injury; the long-term effects of violence on the neurological, cognitive and emotional development and health of the child are much more problematic.

There are children who do not want to talk at all. Others disclose domestic violence indirectly by not telling the details unsolicited or in a roundabout way: "Sometimes my stepfather annoys my mother." The child hopes that the hint they give will be taken up. Many children are insecure because the perpetrator is someone they love. One should keep in mind that the indicators of domestic violence, especially in relation to children, could also be sings of something else (e.g., bullying, traumatic events).

Provide first-line support that is gender-sensitive and child- or adolescent-centred. This includes:

listening respectfully and empathetically to the information that is provided;
inquiring about the child's or adolescent's worries or concerns and needs, and answering all questions;
offering a non-judgmental and validating response;
taking actions to enhance their safety and minimize harm, including disclosure and, where possible, the likelihood of the abuse continuing, this includes ensuring visual and auditory privacy;
providing emotional and practical support by facilitating access to psychosocial services;
providing age-appropriate information about what will be done to provide them with care, including whether their disclosure of abuse will have to be reported to relevant designated authorities;
attending to them in a timely way and in accordance with their needs and wishes;
prioritizing immediate medical needs and first-line support;
making the environment and manner in which care is being provided appropriate to age, as well as sensitive to the needs of those facing discrimination related to, for example, disability or sexual orientation;
minimizing the need for them to go to multiple points of care;
empowering non-offending caregivers with information to understand possible symptoms and behaviours that the child or adolescent may show in the coming days or months and when to seek further help.

Source: https://www.who.int/reproductivehealth/publications/violence/clinical-response-csa/en/

The child should not be "interrogated". One should ask simple questions such as:

"Is there something you're sad or worried about?"
"What makes you happy/sad/worried at home?"
"Is there anything that an adult should know?"
"Some kids can get scared at home. What do you believe may scare them?

The child should be reassured. You could say this:

"I'm glad you came to me."
"I'm sorry this happened."
"It's not your fault."
"We'll do something together to get help."

The SUPER LISTENER was designed by children and young people with experience of domestic abuse. Power Up/Power Down was a participatory project exploring how to improve court ordered contact processes for children. The children who took part in this programme felt that it was important that all adults working with children know what makes a SUPER LISTENER.
Special case: improving responses to LGBTIQ people

LGBTIQ people may experience particular forms of domestic violence.

Lesbian, gay or bisexual people:

having their sexuality used against them, e.g., threats to 'out' them to family/community/workplace
being cut off from community or their family
being under pressure to match sex or gender norms

Transgender, intersex and gender diverse people:

being ridiculed for their body/appearance/identity;
being denied access to medical treatment or hormones or coerced to pursue or not pursue medical treatment;
facing threats to 'out' their gender history.

Barriers for accessing support for LGBTIQ people include:

not knowing where to seek formal support, being not inclined to seek 'mainstream' support, and not having informal support networks;
fear of discrimination, homophobia, heterosexism, transphobia and societal constructs around gender;
fear of being 'outed' about their gender/sexuality;
not able to recognise abusive behaviour – due to assumptions that domestic violence only occurs in heteronormative relationships. It may also be due to their having a high tolerance for abuse due to their life-long experience of homophobia/transphobia;
fear of not being taken seriously;
not wanting to draw negative attention to LGBTIQ communities;
uncertainty about their legal rights, especially if children are involved or they have shared assets with the abuser.

How could you make your response more inclusive?

On an individual level

Have non-judgmental and accepting attitudes
Avoid making assumptions of gender or heterosexuality – really listen to the individual and their experience
Provide assurances of confidentiality about sexual orientation/gender history, if required

On a practice level

Develop sensitive, culturally appropriate referral networks for LGBTIQ people
Nurture active partnerships with LGBTIQ organisations
Encourage staff to attend LGBTIQ awareness training
Display LGBTIQ materials in the waiting room
Ensure the communication and educational materials are LGBTIQ-inclusive

Source: https://www.racgp.org.au/familyviolence/resources.htm
Special case: improving responses to refugee and migrant communities

1. Ask

Ask about the victim's pre-migration experiences and cultural context. Understanding the victim's view is important to understand the context of his/her experiences, decision-making and challenges.

Examples of questions to ask to understand the victim's view

Pre-migration

Which country did you come from?
How long have you been in this country?
Did all your family members come here together?
Can you tell me a bit about your journey to this country?
What was life like in your country of origin or in the transition country?

Settlement

How have you and your family members adjusted to life here?
How are the children at school?
Do you work? Do you study? Do you take English classes?
Did you have positive experiences?
What barriers have you faced in adjusting to life in this country?

Cultural context

What is expected of women/men in your family and community? What happens when these expectations are not met?
What happens if a woman/man is not treated well within the family? How is that perceived by the community?

2. Acknowledge

Acknowledge differences between justice and support systems in different countries.

Explain the system, including the role of the police, courts, and refuges. Be aware that fear of authorities may cause a woman/man to be reluctant to involve the police or state services.
Reinforce that everyone has a right to feel safe in their home.
Clarify that domestic violence is more than just physical violence but also includes emotional, sexual, economic, and social violence.

3. Explain

Explain what services exist, how they operate (free and confidential), and how they can help with safety.

That may also be of help:

explain about confidentiality;
use a professional interpreter;
ask permission before asking questions;
check in with the victim to see how he/she is doing;
refer them to a specialist organisation for ongoing support.

Source: https://www.racgp.org.au/familyviolence/resources.htm
---
---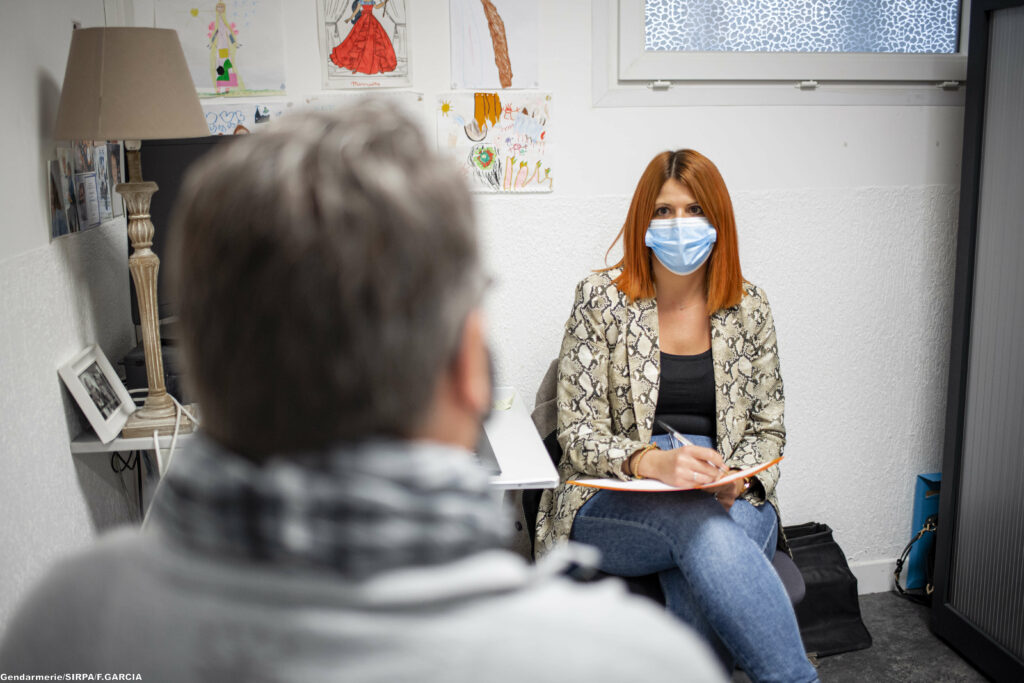 ---
Icon made by Freepik from www.flaticon.com
---
Domestic violence in the media
Domestic violence is present in the news, in newspaper articles and on the Internet. Books, films, and series (e.g., "Sleeping with the Enemy", "Fifty Shades of Grey", "365 Days"), documentaries and reports as well as song lyrics take up the topic. In most cases, however, they are not aimed at informing about domestic violence, but at entertaining and polarising consumers.
Domestic violence is often trivialised or romanticised. Stalking, physical violence and deprivation of freedom are presented as signs of true love and justifying jealousy. The perpetrators are almost exclusively men – the blame for the experienced violence lies with the female victim.
Romantic movies often follow the logic of "The beauty and the beast", where 'good' women can rescue 'bad' guys through their love. Although there might be some evidence that men behave better in the presence of women, this is not true in abusive relationships. Instead, women are caught in the circle of violence. That means, an abusive incident happens, afterwards the perpetrator feels guilty, apologises, and promises to not let that happen again in the future. This is followed by the "honeymoon phase": the perpetrator appears to be loving and caring. After some time, the perpetrator is getting more and more aggressive towards the victim until a new "big" incident of domestic abuse happens and the circle starts over again. These vicious circles trap women in abusive relationships – partly, because they falsely hope that the perpetrator will change for the better and violent incidents will not happen again.
The consequences are serious for the victims and the public perception of domestic violence.
---
"It is precisely because domestic violence is so counterintuitive that the media need to continue to tell these stories. However, we journalists need training so that we do not continue to make the usual mistakes. We cannot accept journalists examining a woman's behaviour to explain why she was murdered or injured. We cannot accept that journalists make excuses for men who killed their families as if they had been pressured to do so." (CIG (Comissão para a Cidadania e Igualdade de Género – Commission for Citizenship and Gender Equality) (2019): Guide to good media practice in preventing and combating VAW and DV)

Jess Hill, journalist of The Guardian
---
How the media deals with crimes of domestic violence is decisive for how they are understood and interpreted by the public:
the frequency with which incidents are reported,
the emphasis placed on them, the information included or omitted,
the words used to describe what happened.
All these factors make a difference in the social understanding of violence.
The role of the media in the field of domestic violence is decisive,
not only because it makes crimes visible that are, today, still often wrongly regarded as belonging to the private and relationship sphere,
but also, because it influences the possibilities of reaction and building a fairer, more secure, more attentive society.
Good journalistic practice should be that, after an article or film, readers are sensitised about domestic violence, and
– recognise signs of violence when confronted with them,
– have a better knowledge of what to do,
– and better understand the dynamics of the escalation of abuse and know how to prevent it.
---
Source: CIG (Comissão para a Cidadania e Igualdade de Género – Commission for Citizenship and Gender Equality) (2019): Guide to good media practice in preventing and combating VAW and DV
---
How to display domestic violence?
Here is a factsheet for filmmakers, producers, scriptwriters and directors how domestic violence should be displayed on TV and in movies. It also includes interviews of two filmmakers sharing their view on this topic.
---
Offering Information sheets
Written information on intimate partner violence and domestic violence should be on display in healthcare settings in the form of posters, and pamphlets, or leaflets in private areas such as washrooms (with appropriate warnings about not taking them home if an abusive partner could find them). A QR code leading to a website with further information should be included on the information materials. The posters, pamphlets, or leaflets should be directed to female and male victims of domestic violence and not use stereotypes. Naming specific contact persons on site and providing telephone numbers of counselling centres or websites offering (anonymous) counselling can support victims of domestic violence when seeking help.
---
Zero Tolerance works proactively with the media and has a variety of resources that can help journalists and editors to ensure their reporting on violence against women is both accurate and sensitive.
Find more advice for journalists here.
Find a bank of free to use, ethical, diverse, and impactful stock images, created in partnership with Scottish Women's Aid, that illustrate domestic abuse and other forms of violence against women here.
---