Case studies
Scenario-based learning
Gender aspects being relevant for police investigations
Initial contact
Police investigation
Learning objectives
This module presents the most important aspects to be considered in police investigations and subsequent legal proceedings after the disclosure of domestic violence. The learning materials are not tailored to the needs of every country; they include generic cases that need local adaptation.
---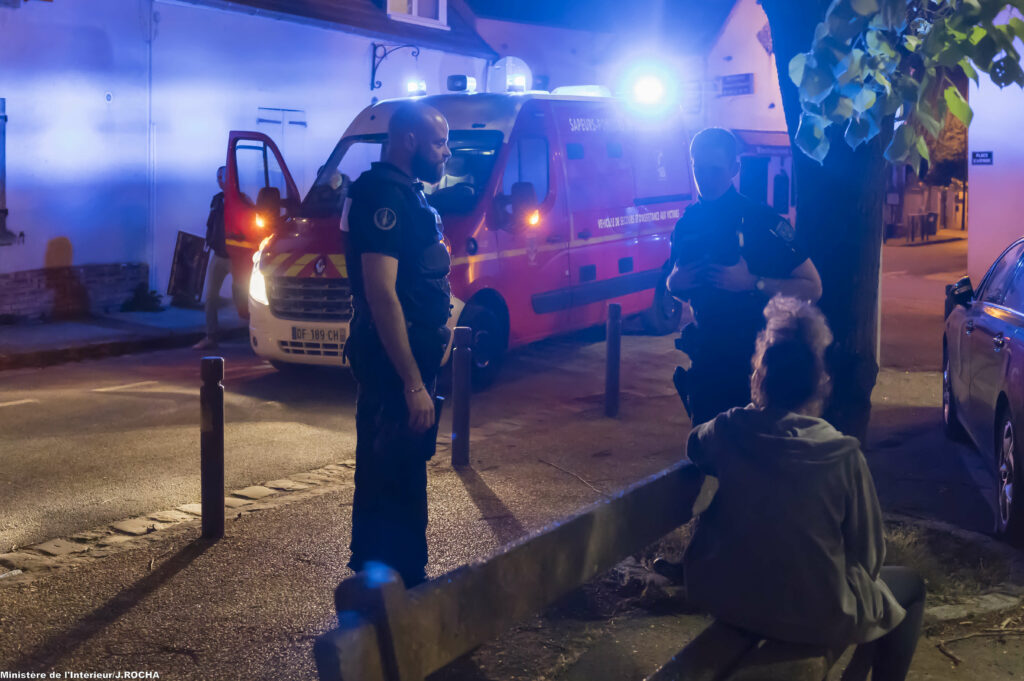 ---
Case studies
Case study: Man as a victim of domestic violence

4:34 p.m. Argument in the parking lot of a shopping mall

An outcry from Mrs. E. is audible when her head hits the roof of the car above the driver's entrance. Passers-by then notice a loud argument and scuffle between the couple. When the couple gets into the car to start driving, a driver blocks them with her vehicle. Mr. E. then flees.

4:37 p.m. Emergency call at the emergency control centre

One of the bystanders calls the police.

4:50 p.m. Police car arrives on scene

The report of Mrs. E. and the witnesses cannot fully clarify what happened. Witnesses say that they have seen that Mr. E. was violent towards Mrs. E. HOWEVER, Mrs. E. said that they had merely argued, whereupon she got into the car frantically and injured her head. They continued to fight afterwards and wanted to drive home but were prevented from doing so. Mr. E. had probably fled in panic, because of the violent verbal attacks by bystanders.

The police officers took down the statements and personal details of the witnesses and of Mrs. E. During this process, Mrs. E. is also asked questions which serve to assess the danger of being attacked again. Mrs. E. refuses a medical examination and is informed of the possibility of having her injury documented in a violence protection outpatient clinic in the following days in a legally secure, cost-free and, if necessary, anonymous manner. After Mrs. E. has been informed about her victim rights, one of the two policemen sensitively addresses the issue of domestic violence and points out the possibilities of specialised counselling and the proactive approach. Mrs. E. listens to these hints and the explanation of police protection options (judicial protection order according to the Protection against Violence Act, approaching endangered persons, expulsion, accommodation in a women's shelter), but remains firm that everything is fine at home. She refuses any support and the information flyer offered to her. Since the overall circumstances indicate a case of domestic violence, the police officers inform Mrs. E. that they are initiating an investigation against her husband for physical injury and hand her a victim protection leaflet with the police's case number.

Mrs. E. finally makes her way home alone and, because of her head injury, by public transport.

7:14 p.m. Emergency call in the control center

An emergency call is received at the control centre from neighbours due to disturbing noise in Mr. and Mrs. E.'s apartment.

7:35 p.m. Police intervention in the apartment of couple E.

Two police cars arrive at the address of the couple since the afternoon's operation and the address of couple E. are already stored in the police system. The police officers assume that there could be another incident of domestic violence. The police crew entering the apartment immediately see that the couple and Mrs. E.'s mother are intoxicated. When questioned separately, all three parties trivialize the incident and state that they were upset that Mr. E. had fled in the afternoon, leaving his wife alone with the police and a head injury. As there are no visible injuries either to Mr. E. and Mrs. E.'s mother, and there are no concrete indications of a criminal offence, those present are urged to remain calm and are informed that if the police are called in again, a report of an administrative offence will be made for disturbing noise.

9:44 p.m. Emergency call in the operations centre

Again, an emergency call from the neighbours for disturbing the peace. The neighbours say, "Things are really getting lively next door. I think they're having another one of their problems."

10:10 p.m. Police action at the home of couple E.

Due to the suspicion that this is a case of domestic violence, two police cars arrive again. Among them are police officers from the previous operation in the apartment of family E. They find that the degree of alcohol intoxication of couple E. as well as of Mrs. E.'s mother seems to be much higher compared to the previous visit. Furthermore, all those present show traces of blood, injuries to hands, arms, and face. Mr. E.'s injuries are particularly serious.

Once again, all three persons are heard separately, whereby Mrs. E. and her mother state that Mr. E. began to become violent towards them and they had to defend themselves.

Mr. E. breaks down crying in front of an official and says that he could not stand the violence by his wife and mother-in-law which had been going on for years and that he did not know what else to do that evening but to become violent as well. In spite of his strong intoxication, Mr. E. appears credible and provides conclusive information about the crime and the violence to date.

Mrs. E. and her mother are confronted with the information provided by Mr. E., whereupon they react verbally in a very aggressive manner, and both want to attack Mr. E. in order to "show him what it means to spread such lies about them". Further violent assaults on Mr. E. can be prevented by the police forces deployed.

Mr. E. wants to leave the apartment and can only be accommodated in a homeless shelter due to the lack of a special accommodation for men as victims of domestic violence. He would like to contact a counselling centre for men affected by domestic violence the very next day and have his injuries documented in an outpatient violence protection clinic. In contrast to Mrs. E. and her mother, he agrees to immediate medical treatment of his injuries. To treat his injuries, Mr. E. is driven to the nearest hospital by an ambulance car. From there, he goes to the emergency shelter on his own. Once again both women reaffirm that they only "had to defend themselves" against the attacks of Mr. E. As a result, the police assesses the risk of Mr. E. becoming the victim of violent assaults by his wife and her mother again as very likely.

In the following days and weeks

In the course of further investigations, the witnesses of the first argument in the parking lot and a neighbour of the E. family are questioned by the police. Mr. E. makes an extensive statement to the police, in which he again describes the development and successive increase in violence against him, as well as his fear that someone may discover that he is a victim of violence in his relationship.

The forensic medical report of the violence protection outpatient clinic is also included in the investigation, which supports the course of events as described by Mr. E. Mrs. E. and her mother only make statements regarding the criminal charges of assault against Mr. E. In doing so, they stick to their original version that Mr. E. caused the escalation of violence but become entangled in contradictions which are documented. With regard to their charge of grievous bodily harm against Mr. E., both make use of their right to refuse to give evidence.

Mr. E. seeks advice from a specialised counselling centre for men affected by domestic violence. He is granted the sole use of the marital home.

After four weeks, the police investigations are concluded with the result that Mr. E. has apparently been a victim of violence by his wife and her mother for years. Both incidents are sent to the Special Department for Cases of Domestic Violence of the District Attorney's Office for further decision.
Case study: Domestic violence increases in severity over time

Spring 2016

Family F. has been living with two small children in their own apartment for a short time when Mr. F. became unemployed. Mrs. F. is able to scale-up her office activities; she is working from home since she is self-employed, and thus, she can ensure that the loan on the house can continue to be paid off. She notices how much her husband suffers from the situation and supports him as best as she can.

August 2016

The situation between couple F. has become very tense in the meantime. Since the children have been in the day-care centre during the day, Mr. F. uninhibitedly unleashes his disappointment and anger about the turning-down of his job applications and related financial issues by criticizing and humiliating his wife.

Mrs. F. suffers so much from the accusations that she proposes marriage counselling. She has great hope that everything can be improved. She feels that her husband has changed in his behavior completely, but she firmly believes that he will be back to his old self if he can find work again.

To Mrs. F.'s surprise, Mr. F. reacts violently to her suggestion to get help and strikes his wife in the face. Mrs. F. is desperate but considers this to be a one-off slip.

October 2016

Slaps in the face, shaking and bumps are now part of the weekly routine. Mrs. F. defends her husband's behaviour from herself, hides it from others and hopes for improvement through a new employment of her husband.

August 2017

Over the summer, the situation has relaxed a little with the children at home during the summer holidays. Mrs. F. is hopeful because her husband is now also starting to work short time.

September 2017

Mrs. F. can breathe a sigh of relief during the day because her husband is out of the house. In the afternoon and evening, she spends every minute with the children, and also mostly sleeps with the children at night; she almost convinced herself that the children have problems falling and staying asleep and that at least her husband has to sleep through.

December 2017

Mr. F. is once again unemployed and from one day to the next he resumes to the old pattern of accusations, humiliation, and assaults against his wife.

A poster in the day-care centre draws Mrs. F.'s attention informing her that there is a hotline that gives advice to women who are exposed to domestic violence. The advertisement seems familiar to her, she must have passed it countless times. But for the first time, she connects it with herself. However, she does not consider her situation serious enough that she would need help for herself.

February 2018

The incidents of domestic violence occur at shorter intervals, and it becomes increasingly difficult for Mrs. F. to explain or hide her erratic and desperate behavior, her broken relationship and her numerous injuries from her family, her circle of friends and her children's social environment. She withdraws more and more.

September 2019

The F. family is now almost completely isolated: their social environment at first reacted more and more uncomprehendingly to the many cancellations, becoming increasingly disappointed and irritated as disputes arose. Finally, their environment withdrew with resignation. Many attributed the situation to the family's noticeably tense financial situation and assumed that everything would be the same when this difficult phase was over.

After a particularly violent incident of physical assault in the bedroom in the evening, which Mrs. F. suspects the children may have heard, Mrs. F. calls the nationwide help line for violence against women. It helps her to have someone who listens to her with understanding.

October 2019

Again and again, Mrs. F. calls the hotline after incidents. Finally, she also asks to be referred to a local advice centre and comes under increasing pressure because she realises that her children now also know and understand more than she would like them to know. Nevertheless, the step to filing a complaint and/or a separation seems impossible for Mrs. F.

From another mother from her neighbourhood, Mrs. F. learns that the police also advise citizens anonymously. She has never been in contact with the police, she has great respect and rather little trust that someone there could understand her situation. Nevertheless, she finally calls her districts's victim protection officer with a suppressed telephone number. Surprised to be informed calmly, not to be condemned or pressed to report the case, she finally takes more courage. The police's advice made her all the more aware of what she actually knew long ago: there is no easy way out and her family life is too disrupted to continue hoping for change. At the same time Mrs. F. is aware that she will never have the strength to oppose her husband alone or to pronounce the separation.

November 2019

Mrs. F. is accompanied to the police by her counsellor from the women's facility and files a complaint. Her counsellor has informed the police about this case in advance and so a police officer, who is trained for cases of domestic violence and has already dealt with a large number of such cases, takes up her complaint. Her counsellor stays with her the whole time. During the interrogation, in which the officer proceeds very carefully and emphatically, Mrs. F. senses that there is apparently a relationship of trust between the counselling centre staff and the police officer, which makes it easier for her to report her ordeal. The police officer also asks her about her current and her children's current situation of danger. Mrs. F. cannot assess the situation and is afraid of confrontation with her husband. She is informed about her rights as a victim, the further course of the criminal proceedings and the police protection possibilities. The police officer informs the youth welfare office about the situation with Mrs. F.'s knowledge.

Mrs. F. takes the courage to call her brother from the police station and informs him of the situation. He immediately leaves his workplace to take her and the children in overnight.

After the report was filed, Mr. F. was visited by the police and expelled from the shared flat. Mr. F. appears completely surprised and extremely angry to the police officers. He cannot believe that he is being expelled from the flat. After he has been made aware of the legal situation and has received information from the police officers about emergency shelters as well as counselling possibilities, he firmly agrees to stay away from his wife and children until further notice.

Mrs. F., supported by her counsellor in the women's protection centre, takes the opportunity to apply to the Family Court for a protective order.

December 2019

During the three-week police investigation, Mr. F. exercised his right to refuse to give evidence and was represented by a lawyer. Mrs. F. is able to conclusively demonstrate the longstanding violent relationship in her renewed interrogation; again, she is accompanied by her advisor from the women's protection agency. A hearing of the children is waived due to their age. After the release from medical confidentiality, medical documents from Mrs. F.'s family doctor are included in the procedure, which substantiate the information provided by Mrs. F.

After completion of the investigation, the police will send the criminal complaint to the competent department of the Office of the Public Prosecutor for cases of domestic violence for further decision.

A family court will decide on the rules of contact concerning the couple's children. In later court proceedings, Mr. F. is convicted of multiple bodily harm and is instructed to take part in anti-violence training.
---
Scenario-based learning
Scenario: Entering an appartment after emergency call

The victim, children of the victim or neighbors send an emergency call, and patrol officers enter the apartment.

Task

Discuss the following:
what measures are available to you in case of such an operation?

The answers to this task can be found in the corresponding sections of this module.

Possible answers

The very first step: ensure the necessary safety measures for all intervening and present persons
First aid measures
Emergency call to medical emergency service (depending on the severity of the injury and, if necessary, the victim's consent)
Information on the rights and obligations of victims/perpetrators/witnesses, the course of proceedings
Separate questioning of victims/perpetrators/witnesses
Preservation of evidence and documentation
Reference to the possibility of documentation of injuries (by police, doctor, or violence protection ambulance)
Victim protection talk
Approach to endangered persons
Risk assessment
Signposting of the offender
Prohibition of approach and contact for offenders
Detention of the offender
If minors are involved: inform the youth welfare center about the incident
Dissemination of information about support services (NGOs, public sector) for victims/offenders/relatives
Placing victims in the help network, e.g., through a proactive approach
if necessary, transfer of the victim to shelter
Scenario: Victim files a complaint without any current incident

The victim comes to a police station and files a complaint without any current incident.

Task

Discuss the following:
what measures are available to you?

The answers to this task can be found in the corresponding sections of this module.

Possible answers

Clarification and recording of the facts: Who is the perpetrator? How many incidents of domestic violence have there been? Over what period of time? In what intensity? etc.
Search for possibilities of subsequent preservation of evidence: Were there witnesses? Were there visits to the doctor? Are there confidants? Is there evidence in another form?
Information about rights and obligations, the course of proceedings
Risk assessment and, if necessary, initiation of the protective measures that appear necessary (with reference to the offender, for example: addressing the perpetrator, expulsion, prohibition of approach and contact, detention; with regard to the victim: victim protection talk, shelter if necessary)
Dissemination of information about support services (NGOs, public sector)
Mediation into the aid network, e.g., through a proactive approach
Scenario: Men threatens to kill his wife

On November 19, 2011, at 9:27 pm, the emergency call center of the police headquarters of XY was called. The caller told the police officer who he was, and said he was going to kill his wife. He said he was at home, which prompted the police to send a patrol car to the scene. When questioned by police officers, he said in the police officer's interview that he and his wife had disputes about apartments and weekend places that they shared. He also told the police officers that he was constantly harassed by his wife and her current boyfriend, and if the officers did not resolve the matter immediately, he would go to her home and slaughter the woman. He repeated this threat several times.

The man is already known to the police because of incidents of domestic violence.

Task

Discuss the following:
what measures do you have to take as a police officer?
a) I would advise the wife to resolve the dispute with her partner.
b) I would gather as much information as possible from the wife and others to justify a ban on contact for the husband to protect the victim; I would inform the prosecutor about the incident and try to convince him to bring the suspect before the investigating judge for previous acts of violence. (This is the right answer!)
c) I would reassure the husband, send him to bed and ask him to settle the dispute peacefully.

The answers to those tasks can be found in the corresponding sections of this module.
---
Icon made by Payungkead from www.flaticon.com
---
Gender aspects being relevant for police investigations
In police practice, there is an interaction between police officers as first responders and the victims of domestic violence. This is influenced by gender-specific attitudes and biases. Interactions are not gender neutral by nature; one should be aware of this. It makes a difference in the response to domestic violence whether the victim is male or female, or whether the first responder is male or female. About 80 % of the victims are female. This may result in misjudgements caused by stereotypes on domestic violence.
Gender can also play a role in inter-agency cooperation between the police and the other, mainly female, frontline responders of other professions and may make cooperation more difficult.
Additional source: https://protasis-project.eu/protasis-training-manual/ pp. 54-63
---
Initial contact
A positive initial contact with the police is crucial for victims of violence. Services must be available and accessible to all victims. But most importantly, the initial contact must demonstrate to the victim that the justice system, and the justice service providers in the system
are committed to their health and safety,
take their complaint seriously, and
want to ensure that they are well supported on their journey through the justice system.
The most important aspects are described below.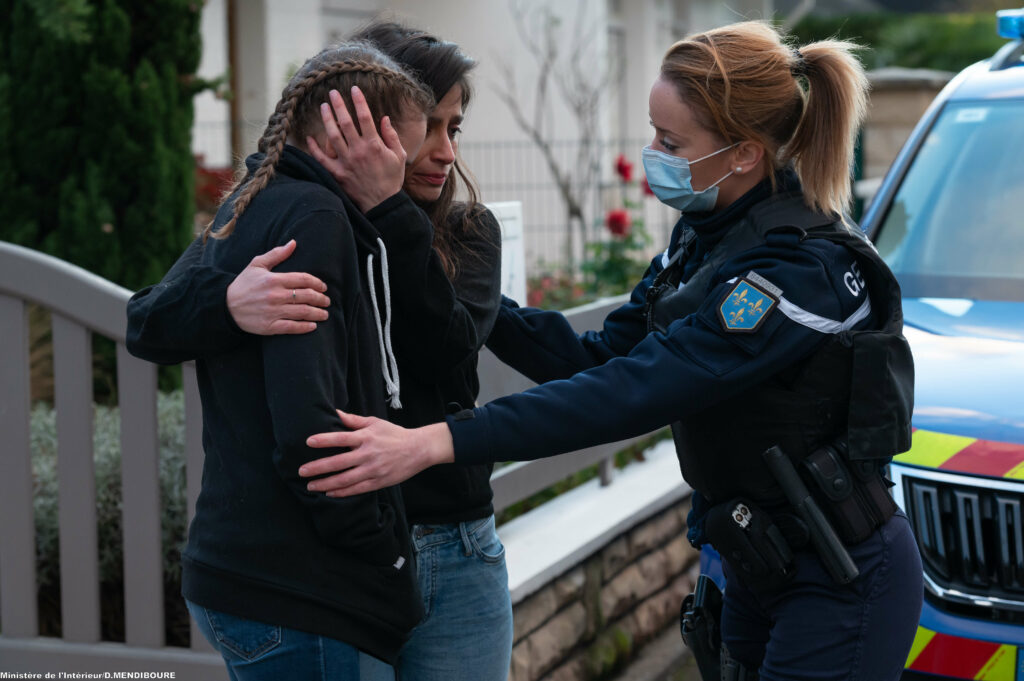 Availability

Inform victims about services regardless of their place of residence, nationality, ethnicity, caste, social class, migrant or refugee status, indigenous status, age, religion, language and level of literacy, sexual orientation, marital status, disabilities, or any other characteristics that need to be considered.
Make services available 24 hours a day and 365 days a year.
Accessibility

Ensure that help is available locally. Make sure that there is a mechanism in place that enables victims to safely contact the police services where help is not available locally.
Police services have to be user friendly and meet the needs of various target groups including impaired victims.
Make procedures and directions available in multiple formats to maximise access (for example, written, electronic, oral, via media, via telephone).
Offer child-friendly spaces.
Police services have to be free of charges and further financial burdens.
Responsiveness

Ensure that a victim can make a report at any time, and at a location that is safe, private, and agreeable to them.
Ensure that a victim has the opportunity to tell his or her story, be listened to, and have it accurately recorded.
Ensure that child victims are able to express their views and concerns according to their abilities, age, intellectual maturity and evolving capacity.
Limit the number of people a victim has to talk to in order to relay their story to a minimum.
Ensure the victim's free will to decide whether to engage in the justice process.
Provide information to make informed decisions.
Assist and support the victim in filing the complaint.
Document all reported incidents of domestic violence, whether or not they are a crime.
Keep all information obtained and reports confidential and store them in a secure location.
Ensure immediate action is instituted when a victim reports an incident of violence against them.
Ensure that suspects are required to submit to measures implemented for the protection of victims.
Ensure that victims' needs are considered, e.g., if victim wants to talk to a specific police officer (female/male).
Preparation of the investigation process

Arrange medical treatment if needed or forensic examinations if required.
Ensure that all available evidence that can verify the allegation is collected.
Collect evidence in a respectful manner that maintains the victim's dignity.
Gather, store and process evidence so that it meets chain of evidence requirements.
---
Police investigation
It is crucial that investigations of crimes of domestic violence are started in timely fashion, are conducted in a professional manner, meet evidentiary and investigative requirements, and that all available means to identify and arrest the suspect are exhausted. Throughout, the victim's safety, security and dignity are carefully considered and maintained.
Investigation of a domestic violence case

Explain to the victim: the investigative and justice processes, their rights, and the services available to them throughout the justice process.
Ensure that the victims' legal rights to have a lawyer and a support person in the hearing are met.
Keep in mind that the victims have experienced physical and mental trauma. Mind the potential impacts their act of reporting may have on them, their family and relevant others.
Take the victims statement promptly, and in a professional, non-judgmental, and victim-sensitive manner.
Choose an interpreter carefully: the gender and ethnic or national background may be a key influence on a victim's ability to respond to questions.
Record the statement accurately, read it back to the victim and let it be confirmed by the victim.
Identify and interview witnesses and other persons who may be relevant as soon as practicable.
Working with children

When working with children, ensure that services are tailored to the unique requirements of the child's age.

Interview rooms and the interview should be child-friendly.
Low desks and chairs.
Dedicate a corner in your waiting room to children: with age-appropriate furniture, games and toys.
Avoid dressing in an intimidating way (e.g., avoid black and tie, if possible).
Have a relaxed 10-minute chat about hobbies etc. to build trust and rapport with the child.
Always try to keep the child at the centre of attention.

Ensure that procedures are child-sensitive.
Ensure that the non-offending parent, a guardian, a legal representative, or an appropriate child assistance authority is involved and participates in all actions contemplated or taken.
Ensure that medical, psycho-social, and victim support services are age-appropriate.
Ensure that confidentiality is maintained, and disclosure of information related to the child is restricted.
Dealing with the perpetrator

Presume the innocence of the suspect. Even if the suspect seems "obviously guilty", she/he should be treated neutrally. The treatment of the suspect according to the legislation is always in the victim's best interest.
Identify, interview, and arrest the suspect, when appropriate.
Ensure a thorough and well-documented report that details the investigations conducted and the actions taken.
Establish and maintain organisational accountability throughout the investigation process.
The role of the management level

In police forces, the role of the frontline management is essential. Domestic violence is not just a question for detectives or frontline responders who need means, time, and training. Managers should have a good overview of the situation regarding processes and partnerships to improve, if necessary, the situation of FLR.

Encourage frontline responders and detectives in these types of investigations.
Take care of frontline responders and investigators regarding the risk of physical and psychological impacts on them.
Ensure a follow-up of different cases in cooperation with other stakeholders. This is essential for the right allocation of resources.
Provide sufficient training and lessons learned to improve skills and knowledge; involve local partnerships.
One of the levers of the approach is to ensure that managers are trained on these issues (awareness, tools, tips, etc.) during their basic and lifelong trainings.
---
Procedure for the police

Record as many unlawful acts as possible or put them into the official note, at least:

a general description of the relationship,
a description of the changes in the relationship,
the first violent event,
a typical violent event,
the worst violent event,
the last violent event.

With the victim, try to define for each event where and when it took place. Try to get the best possible description of the individual acts of violence from the victim. Pay particular attention when psychological violence is described.

According to the victim, why did an individual act occurr
What words did the perpetrator use
What was his behaviour
On request, minor injuries and sexual assaults should be prosecuted; this must be explicitly stated when the injured party makes a request for prosecution.
Provide any evidence: SMS, email, place, and time of action; tracking devices, etc.
The victim should point to persons who know something about the violence.
State the manner in which violence was committed: in addition to the description of the form of violence such as physical and sexual violence, psychological violence, stalking, control and social isolation of the victim, manipulation of children and external institutions, content of economic violence.
If the injured party brings documents and personal records with her/him, enter them in the record or official note.
People that the injured party (victims) trusts can be present in the interview, their presence and role have to be recorded (you could offer support, but you may not make statements for the injured party).
In case of deviant behaviour (crying, shaking, laughing, etc.), describe the findings in the official note on the established facts and circumstances of the crime.
Always treat violence as a crime

If you do not have a report or the victim refuses or cannot speak to you, but you are suspecting a crime, make an official note and enter all the circumstances known at that time.
Pre-trial process

Criminal, civil, family, and administrative pre-trial/hearing processes that are non-biased and sensitive to the specific needs of victims and survivors of domestic violence are essential to guaranteeing their right to justice. Essential pre-trial criminal justice services reflect the international obligation of the state and its justice service providers in exercising primary responsibility for investigation and initiating prosecution while balancing the importance of empowering victims and survivors to make informed decisions regarding their interactions with the criminal justice system.

Pre-trial/hearing processes in criminal justice matters include bail hearings, committal hearings, selection of charges, decision to prosecute and preparation for criminal trial. In civil and family matters they include interim child custody/support orders, discovery procedures in civil cases, and preparation for trial or hearing. In administrative law matters, such as criminal injuries compensation schemes, it is recognised that this can be pursued in the absence of or in addition to criminal and/or civil cases and include providing supporting documentation for applications.

Although the pre-trial process is only a small part of a police officer's job description, the following most important aspects should be kept in mind to know what happens after your job is done.

The primary responsibility for initiating prosecution should rest with the justice service provider and not with the victim.
The victim has to be informed about any decisions concerning prosecution, unless they indicate that they do not want this information.
Any decision not to proceed should not be based solely on the fact that there is no medico-legal report or that the report is inconclusive.
All relevant information has to be gathered. This could also include the psycho-social context of the violence, medical, forensic, and other relevant reports, and information.

What if the victim was aggressive, too?

Recognise that domestic violence is a continuum, and an episode of violence committed by the victim requires investigation into the circumstances around the aggression, the elements, and circumstances of the continuum of such violence, the emotional and psychological impact on the victim and suspect and how these features can affect their behaviour. Consider:

performing a psychological examination to determine the mental state of the suspect and what factors could be related to the violent behaviour, such as for example previous violent incidents,
performing a risk assessment to detect if there are risk factors in the suspect, to see if the aggression was reactive to some circumstances close to the aggression or if the aggression was part of a mental idea built through time

Primary aggressor analysis

There are incidents where the domestic violence has been mutual. To arrest the right person (and avoid arresting the victim), police officers should identify the predominant aggressor. The predominant aggressor is the one who dominates the other. By arresting the wrong individual, a wrong message is sent: offenders are being rewarded for manipulating the system; victims are not being protected and they are unwilling to seek help from the police in the future; if both parents are arrested, children may associate the police with the breakup of the family. Ineffective intervention in domestic violence won't stop the cycle of violence which will lead to repetitive violent incidents and frustration of police officers.

To determine the predominant aggressor ask yourself the following questions.

Is there a history of previous domestic violence (reported and not reported?), and who had previously been the perpetrator?
Who is fearful of whom?
Did one act in self-defence or to retaliate or punish?
Which one poses the most danger to the other?
Relative size of involved parties?
Who is at higher risk of future violence?
Whose version of events makes the most sense?
Do the injuries and evidence confirm the statements?

Do not let these factors influence your decision:

victim's unwillingness to cooperate or testify
victim requests that a crime report will not be filed
victim's emotional state
assurances that the violence will stop
speculation that the case will be dismissed

Sources:

http://www.thurstondomesticviolencesataskforce.com/home/domesticviolencesadocuments/PrimaryAggressor2016.pdf
Trial process

Victims and survivors of domestic violence who are involved in criminal and civil justice processes at the trial stages can feel vulnerable and overwhelmed by the justice system or be re-victimised through the treatment of justice service providers. International victim's directive and standards call for measures to prevent further hardship and trauma that may result from attending the trial itself. They should also ensure that trial processes maximise the survivor's cooperation, promote their capacity to exert agency during the trial stage while ensuring that, in criminal matters, the burden of seeking justice is on the state. The justice services are considered essential during the trial processes and reflect internationally agreed-upon model strategies, including friendly and enabling court environments for survivors to feel safe and comfortable while recounting what they have experienced, procedures to minimise re-victimisation, and the application of evidentiary rules in a non-discriminatory manner.

If possible, a social worker can accompany the survivor through the several stages of the legal processes. In some countries this service is available on request.

The role of NGOs is essential to support the survivors in this phase of the trial. Alongside the work of a lawyer, they have the skills to facilitate this period of stress and uncertainty, regarding housing, shelters, financial aid, and children by providing psychological support for survivors.
Post-trial process

The justice system can play an important role in preventing future violence, both by sending a strong message to the community that domestic violence will not be tolerated but also in its role in ensuring the accountability and rehabilitation of perpetrators and by reducing relapse rates. The international norms and standards urge states to develop and evaluate treatment and reintegration/rehabilitation programmes for perpetrators that prioritise the victims' safety as well as to ensure that compliance is monitored. These standards also urge states to ensure that there are appropriate measures in place to eliminate domestic violence.

Post-trial processes include corrections as it relates to protection of the victim/survivor, minimising the risk of re-offending by the offender, and the offender's rehabilitation. It also covers prevention and response services for victims who are detained in correctional facilities, and for victims in detention who have suffered domestic violence.
---