1. Signs of unhealthy relationships
2. The role of medical professionals in identifying domestic violence
3. Impact of domestic violence
4. Excursus: Outsiders as witnesses of domestic violence
5. General domestic violence indicators in adults

Spotlight on Gynaecology/obstetrics, Surgery & Paediatric
6. Gynaecology/obstetrics – Frequent indicators
7. Surgery: Emergency room – Frequent indicators
8. Paediatrics – Frequent indicators

Spotlight on Dentistry: Identification of victims of domestic violence
9. Dentistry – Frequent indicators

Sources
---
1. Signs of unhealthy relationships
Some relationships can have a negative impact on our overall well-being rather than improving it. Some may even reach a level of toxicity, and it's crucial to be able to identify warning signs.
These warning signs, often referred to as "red flags", serve as indicators of unhealthy or manipulative behaviour. They are not always recognisable at first — which is part of what makes them so dangerous.
Toxicity can be present in all forms of close relationships e.g. between friends, at work with colleagues, between family members, or in romantic partnerships.
---
2. The role of medical professionals in identifying domestic violence
Victims may not always want to report domestic violence to the police or speak to a counsellor of an NGO, and the dark field related to domestic violence (DV) is quite high. But victims, when they definitely need help because of injuries or due to long-term health consequences requiring medical treatment, will finally have to see a physician.(1)
In addition, due to other non-domestic violence related visits to the medical sector (e.g. control appointments at the dentist, diabetes management, skin cancer screening) they do have doctor's appointments more frequently and at this point their physician/dentist might detect signs of domestic violence although it was not intended by the victims.(1)
Consequently, healthcare professionals are often the first beside friends and family, who either hear about the presence of DV or they are the first ones recognising indicators and symptoms pointing towards DV.(1)
Source: WHO, 2020
For more information see Module 1: the wheel of power.
Traumatic events like sexual abuse, domestic violence, elder abuse, and combat trauma have lasting physical and psychological effects, affecting how patients approach healthcare and preventive measures. Trauma-informed care shifts the focus from "What's wrong with you?" to "What happened to you?"
In Module 3 you will find detailed information about communication.
---
3. Impact of domestic violence
Every victim is different and the individual and cumulative impact of each act of violence depends on many complex factors. While each individual will experience domestic violence uniquely, there are many common consequences of living in an environment with violence and/or living in fear. Often the short and long-term physical, emotional, psychological, financial and other effects on individuals are quite similar.
It is important to understand the effects of domestic violence on victims, because those effects are responsible for many indictors they present to us.
Please note that all the following lists are not exhaustive; it represents only a selection.
Impact of domestic violence on a child (witnessing or experiencing)
"People who have experienced challenging or traumatic experiences in their childhood are more likely to exhibit both physical and cognitive impairments in old age."(7) In the following table you will find more examples of short-term and long-term impact of domestic violence on a child experience or witnessing domestic violence:
Children who have experienced violence and have mental health problems (e.g. psychosomatic symptoms, depression, or suicidal tendencies), are at greater risk for substance abuse, juvenile pregnancy and criminal behaviour. (8)
Children may learn that it is acceptable to exert control or relieve stress by using violence, or that violence appears to be linked to expressions of intimacy and affection. This can have a strong negative impact on children in social situations and in relationships throughout childhood and in later life.
Children may also have to cope with temporary homelessness, change of physical location and schools, loss of friends, pets, and personal belongings, continued harassment by the perpetrator and the stress of making new relationships.
---
4. Excursus: Outsiders as witnesses of domestic violence

Given the short- and long-lasting negative impact on individuals living in an environment with DV and given that most never tell anyone, it is important that caregivers and family members, as well as neighbours or work colleagues which are potential witnesses of domestic violence don´t look away.
The victim's cooperation and consent are the most important prerequisites for intervening as a witness. An intervention by a witness can include talking to the victim, helping to access help services, or e.g. supporting the reporting of DV to the police.
Factors that may inhibit or encourage intervention by witnesses:
More information on the decisive factors for witness intervention in domestic violence can be found here: https://eige.europa.eu/gender-based-violence/eiges-work-gender-based-violence/intimate-partner-violence-and-witness-intervention?lang=sl
---
5. General domestic violence indicators in adults
There is a whole range of indicators to serve as "red flags" to health professionals that a patient may be experiencing domestic violence. Some of these are quite subtle. Thus, it is important that professionals remain alert to the potential signs and respond appropriately. Please note that none or all of these might be present and be indicators of other issues. Some victims also drop hints in their interactions with health and care staff and their behaviour may also be telling.
Health care professionals should always ask about domestic violence when taken medical history. Find detailed information to communication in Module 3.
Victims rely on health professionals to listen, persist, and enquire about signs and cues. They need them to follow-up on conversations in private, record details of behaviours, feelings and injuries seen and reported, and support them in line with their organisation's systems and local pathways.
Please note that none or all of these indicators might be present and be indicators of other issues, but they can serve as warning signs and a reason for increased attention and can point towards a history of DV.
Here, you will find a range of potential health indicators, psychological indicators for adults, and specific indicators pertaining to vulnerable groups. In the subsequent chapters, you will also encounter specific indicators tailored to gynaecology/obstetrics, surgery, paediatrics, and dentistry.
For better clarity, the indicators are categorised by colour: Yellow: General indicators; Green: Behavioural indicators; Blue: Psychological indicators.
Possible indicators which apply specifically to the vulnerable group of the elderly:
Some healthcare workers worry that discussing suicide may trigger the person at risk, but in reality, addressing suicide can reduce their anxiety and foster understanding. If someone currently has thoughts or plans of self-harm or has a recent history of self-harm and is in extreme distress or agitation, do not leave them alone. Immediately refer them to a specialist or emergency healthcare facility.
---
Spotlight on Gynaecology/obstetrics, Surgery & Paediatrics
6. Gynaecology/obstetrics – Frequent indicators
6.1 Gynaecology
6.2 Obstetrics
Source: Jamieson, B. (2020). Exposure to Interpersonal Violence During Pregnancy and Its Association With Women's Prenatal Care Utilization: A Meta-Analytic Review. Trauma, Violence, & Abuse, 21(5), 904–921. https://doi.org/10.1177/1524838018806511
Indicators during pregnancy
The following signs are indicators for domestic violence in relationships, however and not every woman who is anxious and/or nervous in the context of pregnancy, medical examinations and/or traumatisation during childbirth has violent experiences. Still, it is always important to look into the individual reasons why a woman experiences a trauma during pregnancy and childbirth, and it is important to ask women about domestic violence. For more information on how to communicate – see Module 3 and on medical assessment – see Module 4.
Midwives in particular have the opportunity to observe psychological signs of violence, as they have close and ongoing contact with patients during prenatal and postnatal care and often this can provide them with a deeper understanding of family dynamics.
Please click on the crosses below each term in the illustration to find some quotes of patients which may serve as indication that DV may be occur during pregnancy.
---
7. Surgery: Emergency room – Frequent indicators
The Emergency room (ER) is the only place where victims arrive with visible signs of injuries. Potential indicators beside the typical injuries are also subtle indicators e.g. in how the victim and perpetrator do communicate.
There are potential differences in locations of injuries related domestic violence between male and female victims. For example, females are more often punched in the abdomen in particular when they are pregnant or they present with injuries in the lower part of the breast. Regions frequently injured -depending on sex – are marked in the illustrations in the female or male body below.
Image by Freepik (male) and Freepik (female): adapted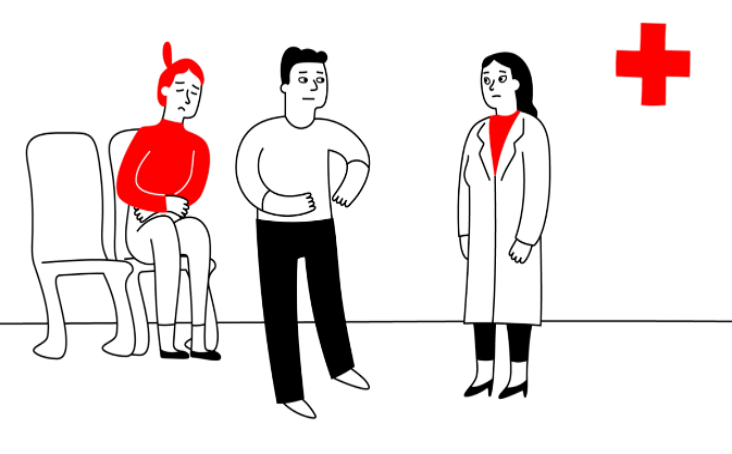 Excursus: Radiological findings
The following description refers to domestic violence against adults in particular (e.g., partners). A special aspect in the broader context is child abuse – radiological findings may be decisive for its detection.
Examples for radiologic findings that may point towards DV can be found in this source: https://radiopaedia.org/articles/intimate-partner-violence?lang=us
---
8. Paediatrics – Frequent indicators
Here, you will find a range of possible indicators in children.(2)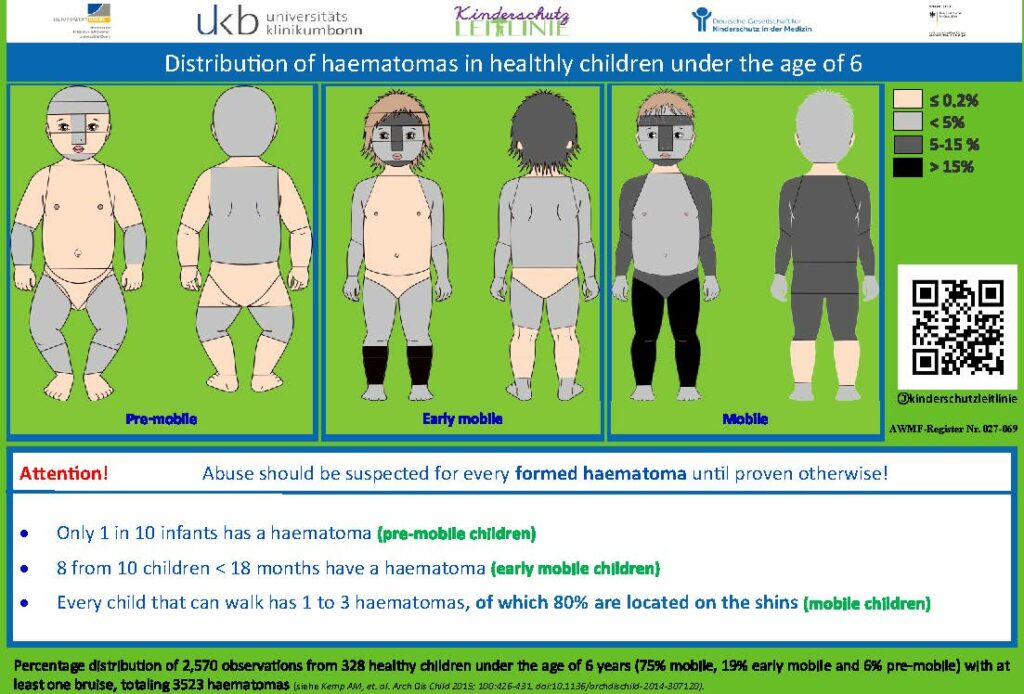 Source: Deutsche Gesellschaft für Kinderschutz in der Medizin (Kitteltaschen https://dgkim.de/?page_id=243)
---
Spotlight on Dentistry: Identification of victims of domestic violence
9. Dentistry – Frequent indicators
Dentists are important first responders in identifying domestic violence
"My Dentist picked up on my problems as I was emotional on a visit last year. He handled it delicately (as did his nurse) he also handed me printed out information on police, victim support, domestic abuse agencies. Even though I denied I needed them (at that time), I did go on to explore more and use them. He saved me!" (1)
"I was unaware of the physical toll the violence had had on me until a couple of years
ago after needing a panoramic x-ray of my face for some dental surgery. After I left the dentist and was driving home the surgeon contacted me to ask if I had ever been in a serious car accident. When I said no, she explained that I had numerous calcified and misaligned healed fractures in my face. The effect of being told this was extraordinary for me. I sat in my car on the side of the road and wept. It seems ludicrous now, in hindsight, to have been so shocked and so deeply saddened by this information, and yet it was as though someone had handed me a certificate that said 'you really were horribly abused and we can actually see that' and for the first time no one was blaming me for it." (2)
Why are dentists well placed to identify victims of DV?
Image (clock) by Vecteezy / Image (calendar) by Freepik / Image (mobilephone) of katemangostar by Freepik / Image (face) of Ambiguous Vectors by Vecteezy
The video highlights that identification of victims of domestic violence can also play an important role in the dental practice. It is important that dental professionals ask specific questions on DV, follow-up on cases they suspect DV being present and document findings and injuries which may be related to DV in a timely fashion and as such that it can be used in court later.
Possible indicators for domestic violence in dentistry
Indicators in the neck-face area(9) – Facial trauma (synonym=maxillofacial trauma)
Injuries of the head-neck-face region are considered a significant indicator of DV. Odontologists dentists, and maxillofacial surgeons should be able to recognise maxillofacial trauma in the head and neck region as a possible indicator of DV. From several studies maxillofacial trauma in women are associated with DV in 50% of cases, and the most affected area is the middle third of the face in 60% of cases.
A facial trauma includes:
Facial soft tissue injuries e.g. grazes, bruises, abrasions, cuts, scratches, haematomas, burns and lacerated contusion wounds.
Maxillofacial fractures associated with DV may include pain, swelling, hematoma, bleeding, deformity of the face, difficulty breathing or speaking, and loss of sensation or vision.
Traumatic bone injuries: fractures of the nose, zygomatic bone, upper and lower jaw and eye socket.
Over a period of 5 years (1992-1996), the injuries of patients hospitalised due to domestic violence injuries were documented in a hospital in Portland (USA). (10)
The results can be seen in the following image. Please click on each percentage to open the corresponding information.
Facial trauma involves the following injuries (in descending order of frequency):
by soft tissue injuries: contusion, abrasion, and laceration
by fracture to the jaw
by dental fracture: crown fractures are in half of the cases, followed by root fractures, subluxations and finally by intrusions
by fracture of the cheekbone
by nasal fracture
More detailed descriptions of the injuries can be found when clicking on the corresponding locations on the face.
Image by Freepik
---
Indicators in the mouth and tooth area
Please press click on each mouth to get specific information on indicators in the mouth and tooth area: 14, 15
Image by brgfx Image on Freepik.
---
Indicators for abuse of children and neglect of children
Abuse and neglect are both forms of domestic violence, but they differ from each other (see the table below). (20)(21)
---
Possible indicators of physical child abuse that may be seen in the dental practice:(22)(23)
Frenulum tear

Frenulum tear: bleeds very heavily (looks like even more blood to the layperson due to mixing with saliva), thus parents usually go straight to the doctor or emergency service in the event of an accident.
If the tear has been healing for several days, the secondary healing often looks like an inflammation to the layperson. The child is often only taken to a dentist. Be attentive and ask for a plausible explanation.

Injuries to teeth

Teeth with fractures, dislocations, post-traumatic avitalities.
Tooth dislocations and extrusions buccalwards: suspected maltreatment e.g. the pacifier was forcibly removed.
Star-shaped fractures in the enamel ("it explodes"), caused by hitting with a ring on the finger without injuring the lips, very atypical for accidental trauma.
In accidental injuries, tooth fractures usually present themselves with the prismatic lines of the enamel, tooth intrusions and luxations usually in the lingual or apical direction!

General information

Injuries at different stages of healing.
Atypical localisation or pattern of injuries: bilateral lip injuries or chin haematomas only occur due to pinching.
Physical neglect: Indicators for physical neglect can be found in Module 1.
Dental neglect

Dental neglect frequently leads to a persistent state of untreated carious lesions. There is no specific threshold value that defines dental neglect based on the number of carious lesions. However, it is established that in the permanent dentition of neglected children, untreated carious lesions occur at a frequency eight times higher than in non-neglected children.(26)
If caries or dental trauma occurs, please talk to the child/adolescent and their legal guardian after ruling out a differential diagnosis and before making a suspected diagnosis of dental neglect:

Impairment due to caries
Duration and severity of caries
Knowledge and awareness of oral health and hygiene
Willingness, ability, availability to treat the caries

If the parent/guardian is aware of the disease and the need for treatment, but refuses to provide their child with treatment and support with oral hygiene or does not keep the dentist appointment, this is an important indication of neglect. (27)
---
Please click on each cross to get specific information on the different scenarios.
Adapted from M. Schäfer, A. Bergmann, F. Schläger, Zahnmedizin und Kinderschutz – Welche Rolle spielen hier Zahnärztinnen, Zahnärzte und ihre Teams? Prophylaxe Impuls, 24. Jahrgang, 70-77, 2020.
Knowledge assessment:
---
Sources