Case studies
Scenario-based learning
IMPRODOVA Risk Assessment Integration Module
The learning materials are not tailored to the needs of every country; they include generic cases that need local adaptation.
Case studies
Case Study: How social services can support investigations of domestic violence

A woman called the police, because her husband has beaten her up. The public prosecutor's office – according to her injuries –initiated a criminal procedure of light physical battery. A few hours later, after she had gone to a secret shelter, her physical condition deteriorates. A social worker talks with the victim about the now visible severity of injuries. With the agreement of the victim, the director of the shelter calls the ambulance and takes photos of the injuries and send them to the police, because he assumed that based on the injuries the crime is more severe than a light battery. As the victim is willed to share the information with the police, he is legally allowed to do so.  The court – based on the medical report, secured medical evidence, the photos sent by the shelter – re-qualified the case into a homicide attempt. Sometimes proactive action by the social services is indispensable when dealing with domestic violence cases. They are in close contact with the victim and therefore have important information that could support the investigation. They can help the authorities not only in documenting the injuries in a timely manner, but also by sharing information about the case that the victims are unlikely to have passed on to the police or other frontline responders. Socials workers are an important part of interorganizational help networks.

Secret shelters receive domestic violence clients through referrals from call centres or crisis ambulances.

Tasks

a) Which additional assistance can be provided to the woman by the social sector?
b) What information is important to provide to the young woman so that she can assess her situation in the best possible way?
c) Where do you see the greatest challenges for the victim in the coming weeks and how would you meet them?
d) How would you react if the woman tells you during the conversation that she would like to return to her husband?

The male perpetrator, against whom proceedings for slight bodily harm were initiated by the public prosecutor's office, has a criminal record for the consumption of illegal substances. Due to the newly introduced evidence (photos and documentation of the injuries) in the preliminary proceedings, the public prosecutor's office now gives the order to arrest the man in the course of the prepared charge of attempted murder. The police arrest the man and take him to the local prison. Pre-trial detention is finally imposed due to the risk of the crime being committed and he is now initially in custody for two weeks. After the initial interview, the social workers in charge there contact the victim protection agency in order to clarify any prohibition of contact and, in the case of his release, to report to the victim protection agency in accordance with the legal provisions for victim protection. The magistrate is of the opinion that it would rather be a case of grievous bodily harm and finally decides to release him from custody due to the safe accommodation of the victim and the man's cooperative behaviour at the custody hearing. However, after contacting the supervising social workers, who consider the case to be very risky, a provisional probation order is issued. Shortly before the man is released from custody, the social workers contact the probation service in order to ensure a seamless transition from custody to further care. The man is closely supervised by the probation office until the main hearing.

Tasks

e) What factors should be taken into account when working with the perpetrator? Which risk factors should be considered by which institution?
f) How do you do if the man tells you in the last conversation before release that he wants to take revenge on the woman for the fact that he has now been in custody?
g) What other conditions and orders, apart from probation assistance, are possible in the course of the man's release?
h) Consider possible scenarios after release: What happens, for example, if the man contacts the woman? 
Case Study: Victim-oriented perpetrator work

Mr F., 34 years old, has been supervised by the probation service for 4 months. The arrangement took place in the course of a court order. Mr. F. was sentenced to 4 months' imprisonment and 3 years' probation due to a dangerous threat against his partner Ms. W. After the incident he was expelled from their shared flat and a prohibition to approach was imposed. In addition, the police informed the victim protection agency. Ms W. did not subsequently apply for a restraining order.

The partner, who was two months pregnant at the time, testified truthfully at the main hearing, but did not want to end the relationship because of the threat he made while drunk in the argument. She also stated in court that he apologised to her and that he is now also the future father of her child.

For a fortnight now, the probation officer in charge has noticed that Mr. F. has been coming to the appointments increasingly tense. He recently reported that his partner, who is now six months pregnant, is currently on maternity leave and is at home a lot, but still does little in the household. He had also been looking for work for some time. He often quarreled with his mother, who no longer took care of him and only told him that he now had a wife of his own to take care of him.

Tasks

a) What can the probation officer do to clarify the current risk?
b) What forms of domestic violence can be involved in this case?
c) What risk factors are present? What other factors could be involved?
d) Which institutions can the probation officer contact in the sense of victim-oriented offender work?
e) Consider possible scenarios of multi-professional cooperation and risk assessment and the possibility of implementing them in your work environment.
Case Study: Working with women of Muslim faith
Case Study: Domestic violence in persons with learning disabilities
Case Study: Older male victims of domestic violence
Case Study: Domestic violence has a negative impact on children

Gabby married her husband Nick after a long relationship and shortly thereafter moved to her husband's family farm. The couple were happy at the farm and soon had their first child. During the pregnancy Nick's behaviour began to change and by the time their daughter was born the relationship did not 'feel' as it had before. Nick seemed withdrawn and spent long periods of time by himself. He began to remind Gabby of Nick's father who had always been a stern presence in his life.

Nick's behaviour became threatening and controlling, especially in relation to money and social contact. He was increasingly aggressive in arguments and would often shout and throw objects around the room. Gabby thought that because he wasn't physically hurting her, his behaviour did not constitute abuse. Nick did not show much interest in their daughter, Jane, except when in public, where he would appear to be a doting and loving father.

Jane was generally a well-behaved child, however, Gabby found that she was unable to leave her with anyone else. Jane would cry and become visibly distressed when Gabby handed her to someone else to be nursed. This was stressful for Gabby and also meant that her social activities were further limited.

Jane took a long time to crawl, walk and begin talking. Her sleeping patterns were interrupted, and Gabby did not often sleep through the night, even when Jane was over 12 months of age. When Jane did begin to talk, she developed a stutter, and this further impeded her speech development. Gabby worried about Jane a lot. Their family doctor told her that this was normal for some children and if the speech problems persisted, that she could always send Jane to a specialist at a later date.

After a number of years, Nick's behaviour became unacceptable to Gabby. During arguments he had taken to holding the rifle that he had for farming purposes, and Gabby found this very threatening. On a number of occasions, items that Nick threw hit Gabby and she was increasingly afraid for their daughter. Gabby decided to leave and consulted the local women's service, who assisted her to get an intervention order against Nick.

Once Gabby had taken Jane away from Nick her behaviour changed. Jane's development seemed to speed up and Gabby couldn't understand why. As part of her counselling at a local women's service, she discussed this issue and her counsellor recognised the developmental delay, stutter, irritation and separation anxiety as effects of Jane's having lived in an abusive situation.

This could be seen as a missed opportunity for identifying family violence. If the family doctor could have asked Gabby or Nick (who had presented with chronic back pain) about their relationship then what was happening to the family, and specifically to Jane, could have been identified much earlier.

Tasks

a) What could have been done better by those involved?
b) Take a moment to consider which agencies and professionals should have been involved in supporting and/or providing services to Gabby from the beginning.
c) Make a list of different professionals who make up the multidisciplinary team in your organisation and who could be involved in the provision of services for those who have experienced domestic violence (this will vary depending upon where you are based).

The wide range of professionals, provider services and specialist agencies who may be involved in supporting victim-survivors of domestic violence can include—but are not limited to—primary and secondary health care services, mental health services, sexual violence services, social care, criminal justice agencies, the police, probation, youth justice, substance misuse, specialist domestic violence agencies, children's services, housing services and education.

Adapted from a case study from RACGP (2014): Abuse and Violence: Working with our patients in general practice
---
The Medical Women's International Association's Interactive Violence Manual offers further cases developed by healthcare experts across the world on the following topics:
The case studies can be downloaded in the form of a PDF file or as a presentation.
---
Scenario-based learning
Icon made by Payungkead from www.flaticon.com
---
IMPRODOVA Risk Assessment Integration Module
You can follow the whole risk assessment procedure for a specific case by downloading the following presentation. You will be introduced to Nora and learn a lot about the different roles of frontline responders.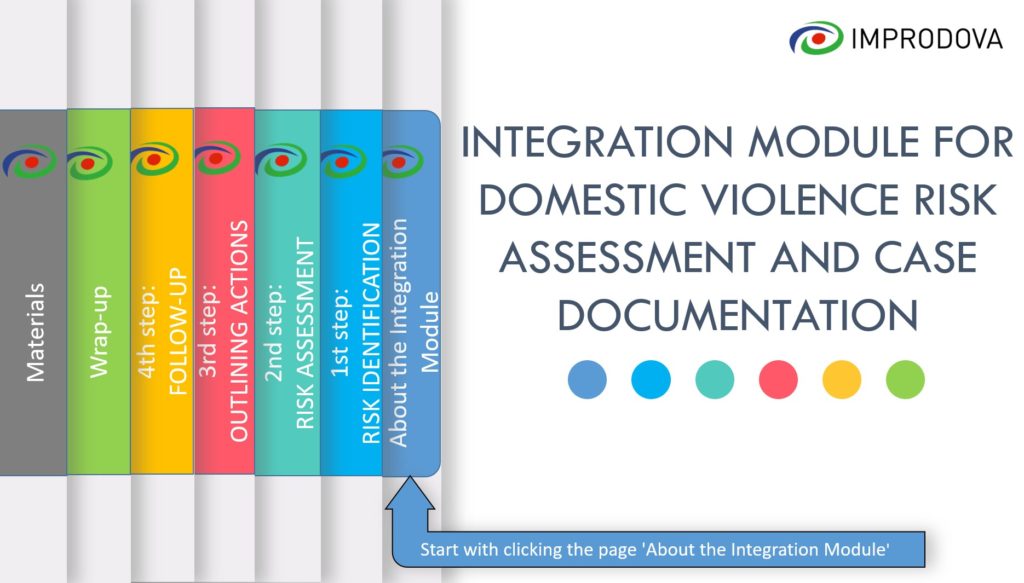 You can check the Module online without using Powerpoint by clicking on this link:
If you want to use Powerpoint, please download the presentation by clicking this link: